Frequently asked questions
1. Who is your ideal client?
Those who want to fall in love with their home again.
Families who want to build in solutions for their growing needs.
If you are planning on building your dream home, extending or converting.
Someone who has bought a property with renovation plans in mind.
2. What are the different elements of Interior Design that you can help with?
Space planning
Furniture designing and sourcing
Colour consultancy
Creating a design scheme
Lighting design
Bespoke window treatments
Design and Build
3. Architects-what size companies do you work with?
We match the individual architect who empathises with a client and whose work and integrity we trust. Sometimes they work alone and sometimes they are part of a larger organisation.
4. Do you have links to people who can knock down walls?
Most definitely. We have built up a directory of great contractors.
5. Can you recommend trades?
We have connections with most trades that we can introduce to a project, but if you already have a great relationship with someone specific we can work with them too. We are always happy to meet and work with great crafts and trades people.
6. When should a client engage your services?
The earlier the better, which is almost certainly earlier than you would anticipate. If you have a project in mind, I would recommend contacting us first. We can then introduce you to the right architect and builder for your project.
It's better to contact us early rather than be too late in the journey and miss out on some stunning design opportunities.
7. Is interior design expensive or are there budget options?
Expensive is an objective view. There is a financial cost involved as it is a professional service but the value you will receive by working with a designer will justify the financial investment.
Working with a professional designer to create a design can save you both time and money. The fee is an investment as the advice you will receive will streamline the design process and will prevent you making costly mistakes and you could argue that you can't afford not to work with an ID, particularly if it's a large-scale remodel.
We can provide designs and advice on an hourly basis or a design package for a specific scope of work. We also offer an Express service for £350 which will provide you with two hours of onsite consultation and a design recommendation report. This is a great way to get started as we share ideas and recommendations which you are then able to implement yourself or you can then upgrade to a design package if you feel that you don't have the time or inclination to undertake all the research and finetuning yourselves.
8. Can you advise on structural as well as decorative changes?
Yes. We often advise on new configurations of rooms when we are refurbishing or extending homes. We always check structural integrity of our recommendations with architects or builders depending on which is appropriate according to the scope of work.
9. Do you have a typical size of property you work with?
Generally, no. We are happy to help regardless of project size. Small details are important, so I'd be pleased to help you with that, but if you want to extend your four-plus bedroom home or build your dream seven-bedroom mansion, I'm your woman.
10. What does an Interior Designer do?
So much more than choose wallpaper and plump cushions.
An interior designer can visualise your existing space in new and exciting ways.
Create a lighting design that will build in your wow factor, far beyond the odd pendant light and a scattering of spotlights.
Design the perfect window treatment to frame your view with style.
Construct a beautiful colour palette to enhance the ambience of your home.
Design and source the perfect furniture to bring your home to life.
Design bespoke furniture where your requirements are really niche.
11. Why should I hire an ID?
If you are looking for more than just a change of wall colour or a new suite, working with an ID will be immensely important for you. There are so many integral elements to a great room design that you are unlikely to optimise without professional guidance. Without an ID you could waste money due to unwise decisions.
12. How do I choose the right designer?
You need to speak with your shortlist of designers to find out who you gel with. You want someone who listens to you and isn't pushy. You do need guidance so you do need to be open to advice but not be bullied into a decision.
It is important that you feel comfortable with your designer and feel that they genuinely care. You could be working with them for many months or over a year so it's important that you feel understood and heard.
13. What is your style?
Unlike some designers I don't have a consistent style that runs across all my designs. I design for individual families highlighting and enhancing their taste and showcasing their memories rather than foist mine onto them.
I doubt that I could ever own a home with enough rooms to reflect all the styles and designs that I like so it's a privilege to have the opportunity to create designs as wide and varied as the families we create them for.
14. How far do you travel for a project?
I regularly travel 90 minutes to a project but have travelled 3.5 hours to Somerset for several projects. I will happily go the extra distance for the right project.
15. Can you work with me if I'm based in another country?
We have worked with families on the interiors for holiday homes in France. We can go in person or we offer a bespoke-by-remote service. This also works for projects in the North of the country, Scotland or Wales.
16. Can you provide references?
Absolutely. We show some of our five-star testimonials on our website and you can review all 36 top rated testimonials on our Houzz profile. In fact, we have the most five-star reviews in the North of Hampshire on the Houzz platform.
We also have received 'The Best of Houzz' Awards for customer service for five consecutive years so you can trust that you are in safe hands.
17. Do you work with other trade professionals?
Over several decades we have built up a directory of fantastic tradespeople with whom we work regularly.
18. What is the sequence of phases that my project will go through?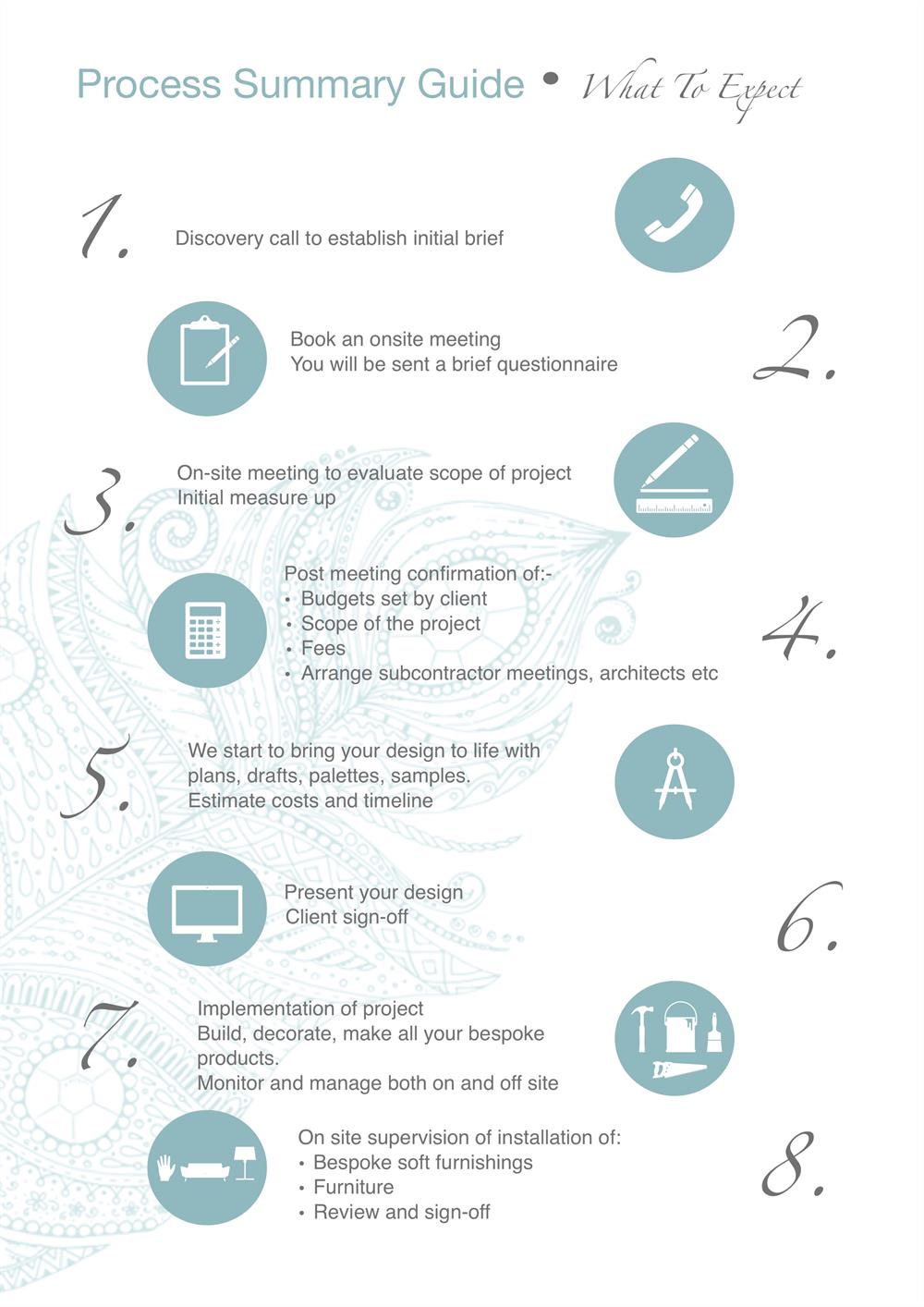 19. What should I do before I contact an ID?
Understand what you feel that you need/looking to achieve and what your anticipated financial investment is going to be.
Common catalysts are-
Need more space
Rooms need refreshing
New baby
More storage
Teenage entertainment space required
Cinema/media room required
20. How involved do I need to be in the process?
As much or as little as you'd like. We offer full project management but we have also worked with families who prefer to undertake the project management themselves. Please bear in mind that you will need to take time off work to project manage a large-scale refurbishment, so our management fee will cost significantly less than taking time off work yourself.
21. How do we get started?
We would love to hear all about your project plans. Please give us a call on 01252 220400 or email me at karen@renaissanceinteriorshw.co.uk to schedule a Discovery Call. This will give me the opportunity to find out more about what help you are looking for and what the best next steps would be.
It's never too early but leave it too long, it might be too late to reap all the rewards.