Making An Entrance
21 Aug
The first room in our homes, the hallway, is a difficult space. Often not even seen as a room in its own right, more of a walk-through, a place to remove outside wear and often a dumping ground for life's essentials - a necessity within your home but not necessarily regarded as a thing of beauty. However, it doesn't have to be that way. With careful design you can tame your hallway offering a great welcoming first impression.
Whatever the period and size of your home understanding what works in your space is essential. In this guide we have identified many of the elements that all successful hallways should address.
For me, the first thing to consider is storage. Without well thought-out storage your entrance will quickly revert to chaos! What do you need to house in your hallway on a regular basis? Usually, it's keys, shoes, coats and schoolbags. If you use the back door more than the front or you have a utility/boot room to shed the outside paraphernalia then you are in a great starting position. For most us though, the front door is where it all happens.
Finding your style
Having first identified the type of storage you need, you will need to marry those practical requirements with the style of interior that best suits you, classic, country, retro, eclectic or modern. You are now on the road to transforming your hallway giving it the identity it deserves.
When thinking of the traditional or classic hallway you may envision high ceilings, a sweeping bannister, dado rails, and tiled floors. Likewise a country styling may conjure up images of open storage, rugs and a welcoming chair offering a cosy perch or do you imagine yourself in a more contemporary entrance with clean, sleek lines and discreet storage creating a calm and ordered room? The important thing to remember is that it should always reflect who you are and how you family lives.
When thinking about the type of storage remember that size and scale will be hugely important. Most hallways are narrow meaning that furniture needs to be streamlined.
Steer away from bulky furniture and ones which do not allow you to 'see through' in narrow spaces as these will only work to block light and decrease the illusion of space.
If large furniture would swamp the space then opt for a console table with drawers and also one with an under shelf for storage baskets or a pretty accessory.
If you have a wider space then you can be bolder in your size choices. An antique or reproduction sideboard can work well in a large classical style hallway offering plenty of drawer space for hats, gloves and scarves as well as a top for lamps and other knick-knacks and plants. Positioned on a wall which can also accommodate a mirror and this will create a focal point for the room.
Open storage works very well in a country styled room and chalk painted or antiqued pine furniture with wicker baskets can create a homely feel to your entrance, however, on the whole I would advocate closed storage as it works better to hide clutter.
Re-purposing a church pew with a comfy cushion creates a characterful feature and a handy place to sit and take off shoes. Alternatively, a monks benches with useful integrated storage is a perfect place for wellies and boots if you want them out of sight, but if you're walking the dog regularly and want that country look then this free standing boot rack from Garden Trading which can fit up to 6 pairs of boots is perfect for that country feel, and pair it with pegs rails to the walls for coats you will always be good to go.
Creating your focus
As hallways tend to have lots going on with numerous doors and stairs to draw the eye, to create a great hall you need to draw the attention to a new focal point. The trick is to create a small scene to attract attention. The use of mirrors or a light is a great way of doing this as our brains will always draw us towards light.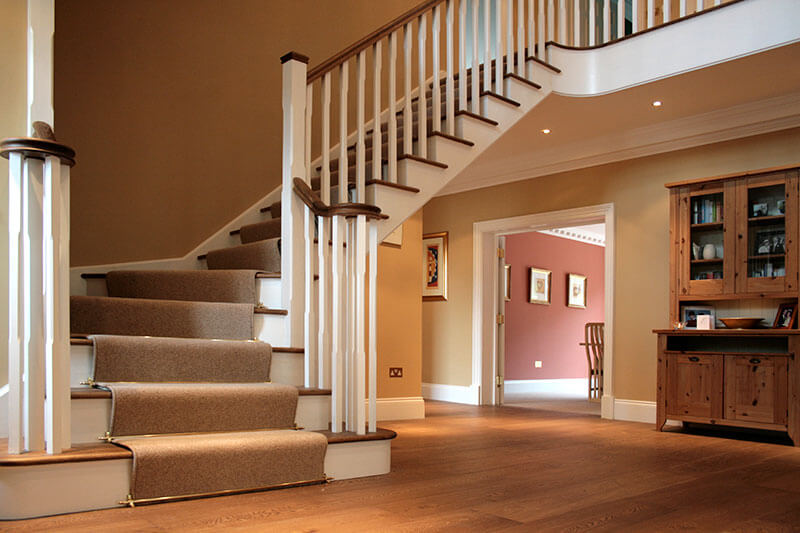 Team this with limited table top accessories for a stylish solution.
Top tip: when adding accessories to any room, unless symmetry is essential, work in odd numbers and use a variety of heights.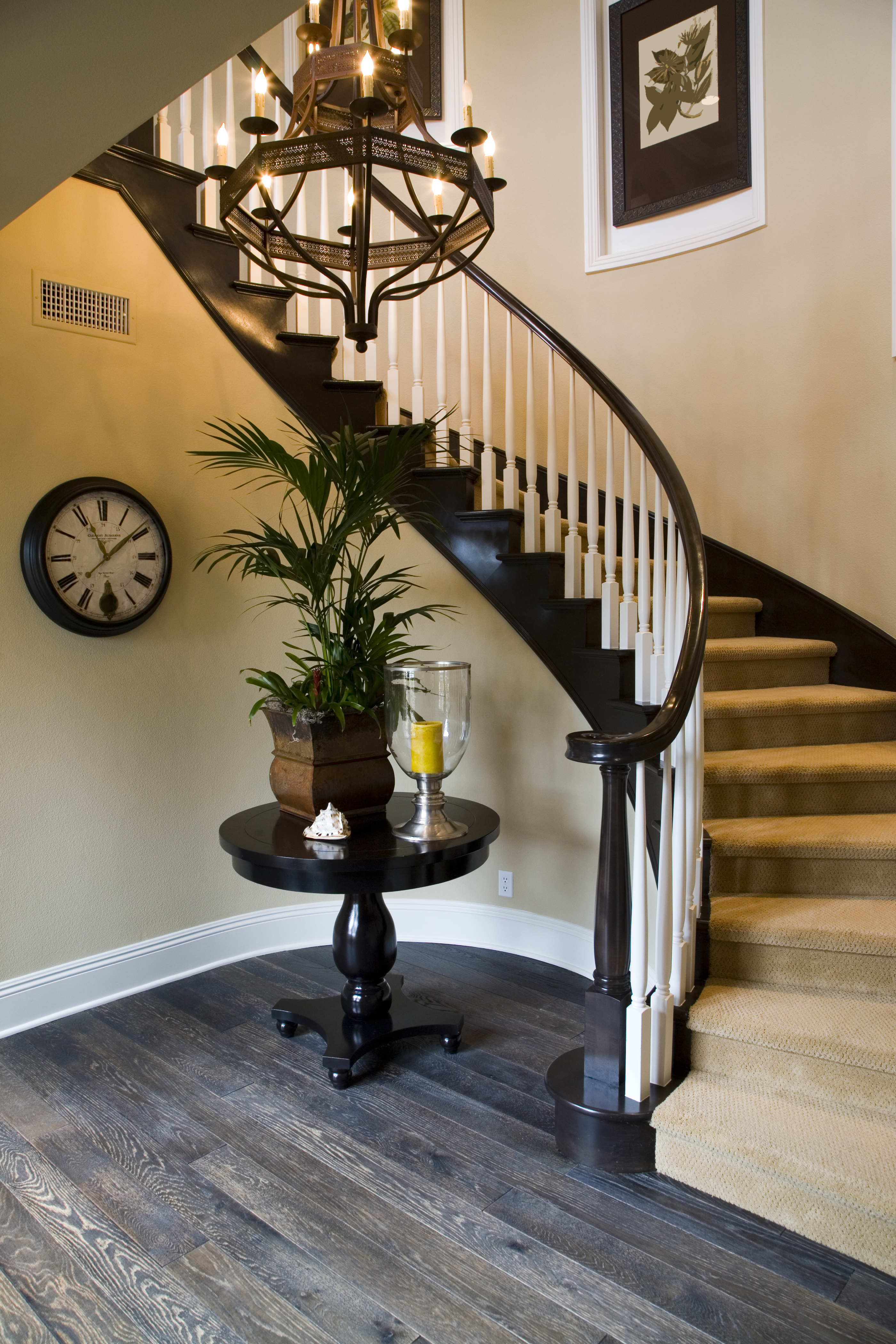 With storage concealed, or custom built to be unobtrusive and streamlined, the addition of a simple table or floating shelf can act as a focal point to the room. Use this focus to add a vase with a few sprigs of eucalyptus (fresh or faux) and a mirror to help balance the space.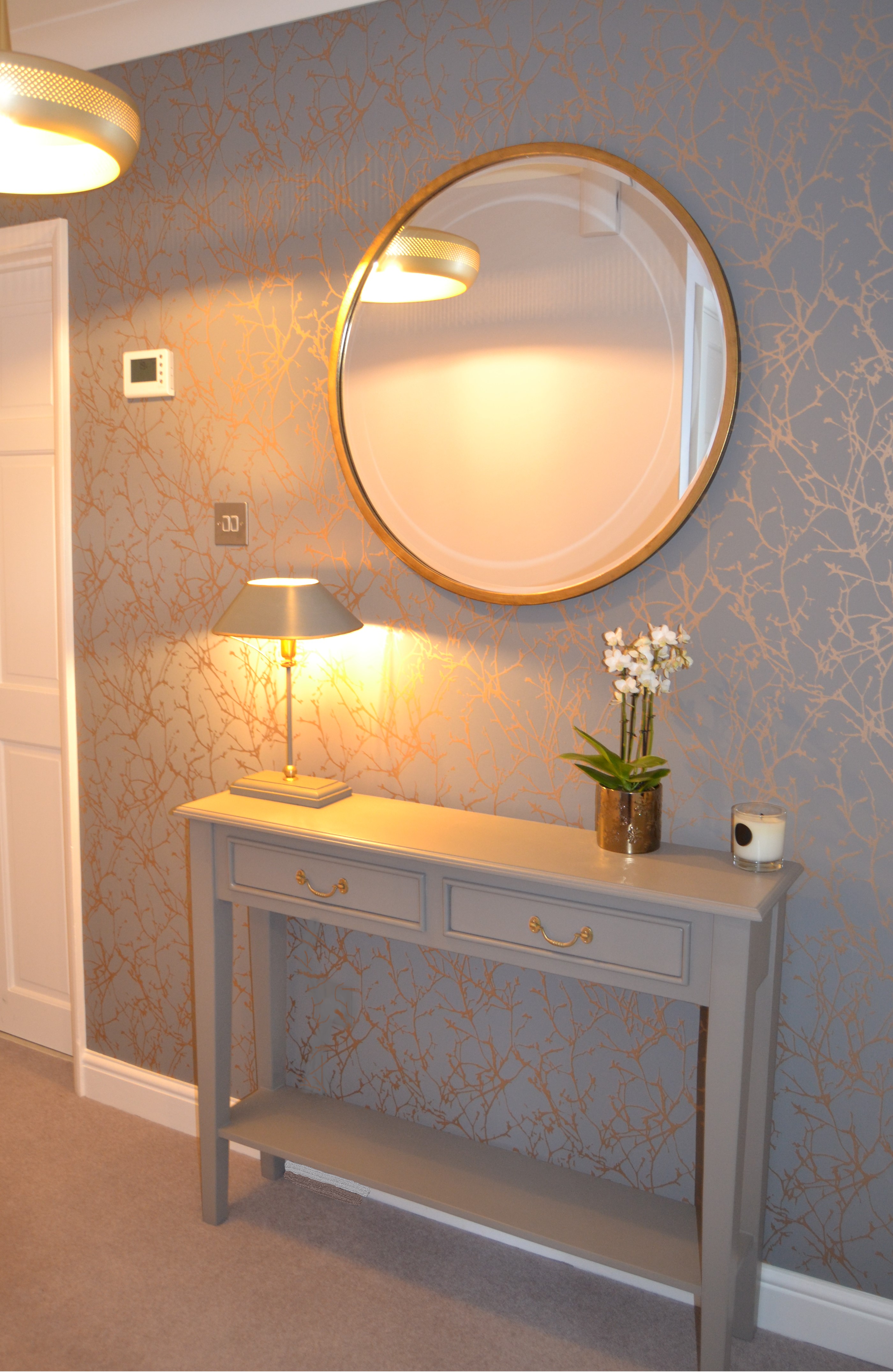 Follow the current trend for mid-century furniture and add a statement piece to your hallway which combines practicality with style such as this modern inspired console table by West Elm.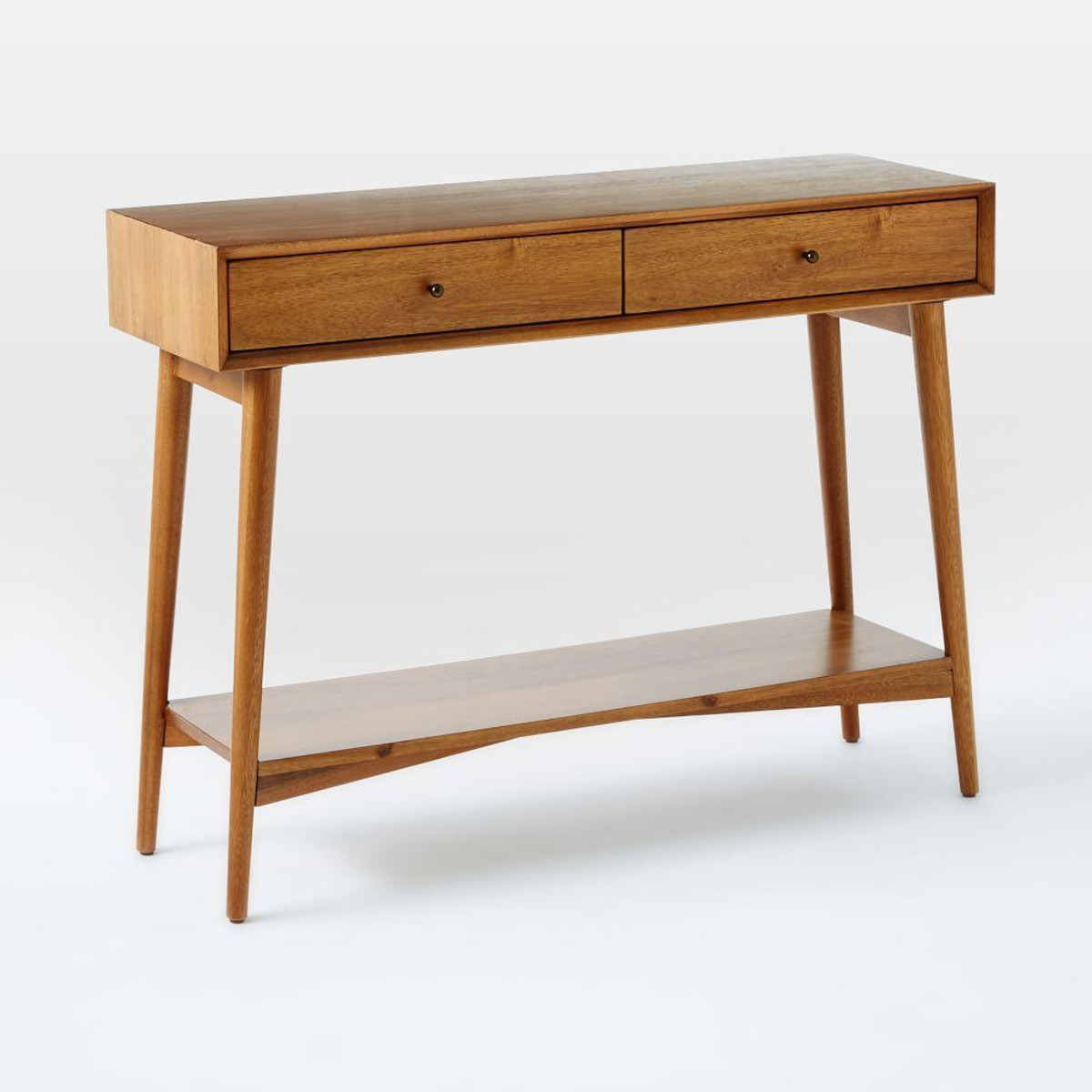 Repurpose an original telephone seat or buy a modern-day replica such as this one from MADE to combine comfort with simplicity: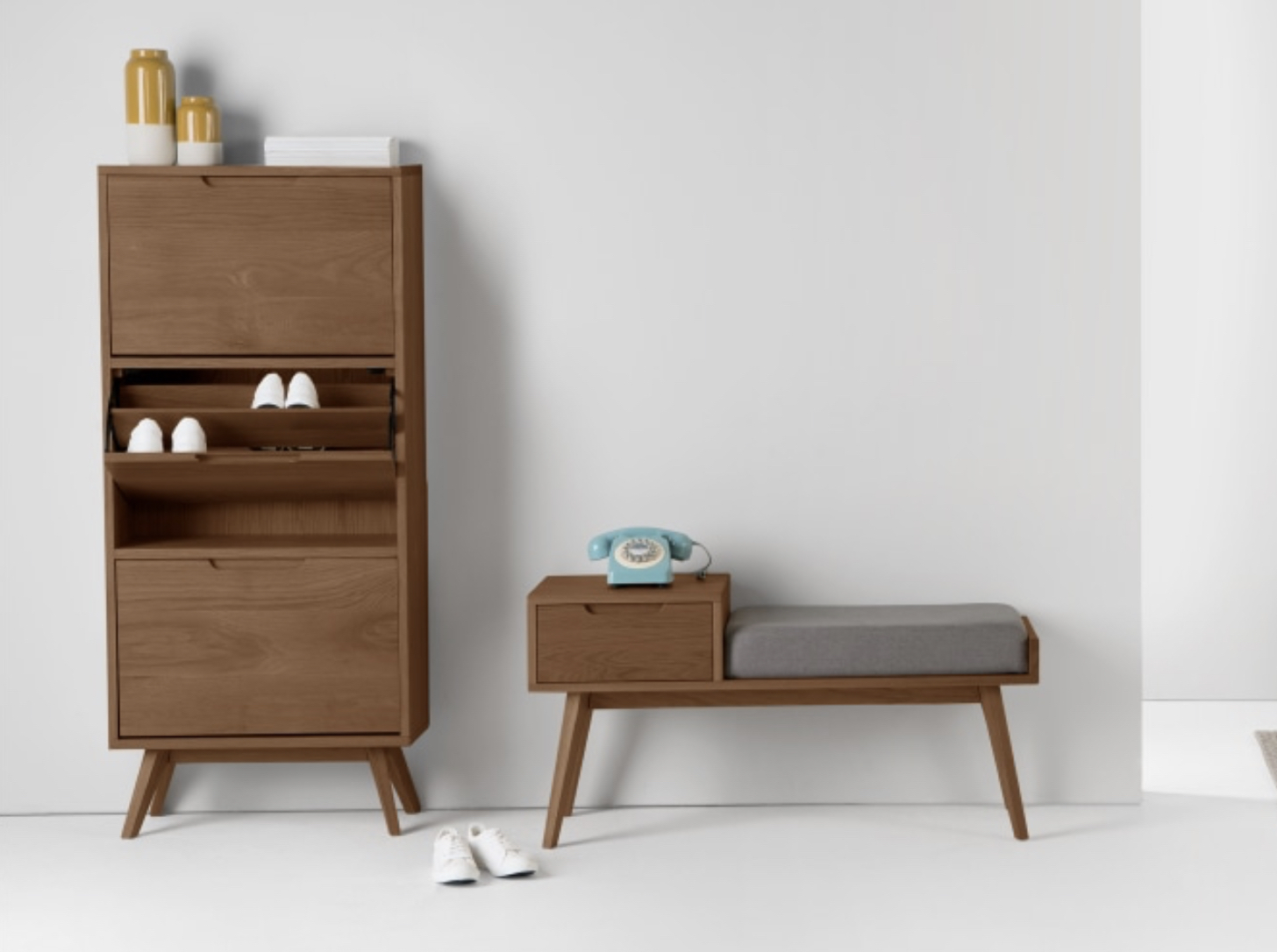 We are always happy to source furniture for any room and have a team of excellent craftspeople, joiners and builders on hand to make bespoke items for your home, but if D.I.Y is your thing then have a look at IKEA Hackers for inspiration on how to re-purpose the humble flat pack into something unique.
Maximise your light
As I touched on before lighting plays a very important role in transforming a hallway. Whatever size your windows are ensure that they are dressed as high and as wide as possible to allow natural light to flood the space and not physically mask the window. If natural light is particularly limited then look to utilise the use of mirrors and metallic or reflective surfaces to maximum effect.
In a recent hallway that we designed the hall, stairs and landing had very limited natural light, but with the use of mirrors and a hint of metallic we maximised the light from the windows and bounced it off the mirrors to make the space feel lighter, larger and have more character.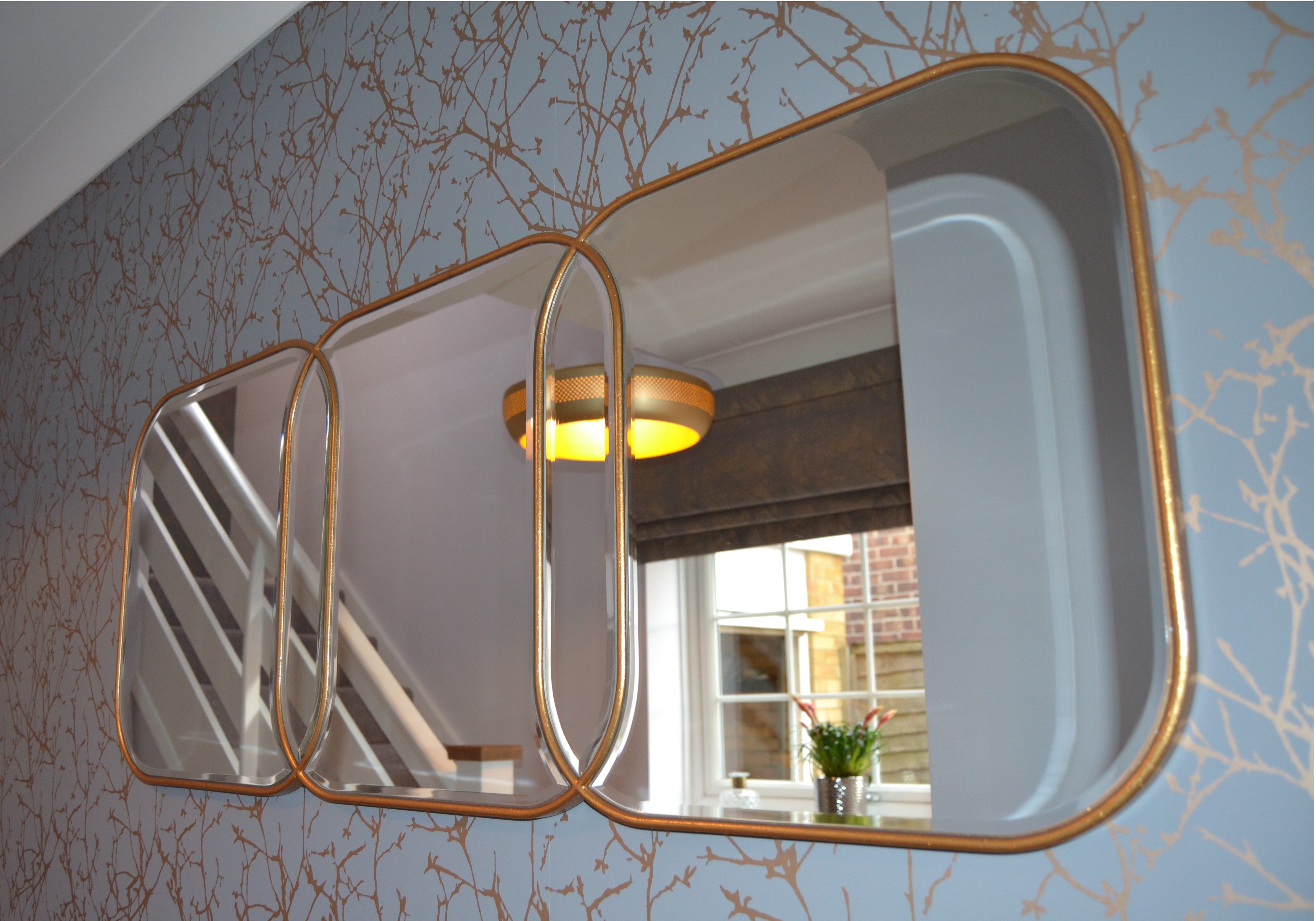 The reflection in the hall mirror shows the gorgeous VITA light which connects the Romowallpaper by using the same tone of beautiful metallic, which also captures the natural light from the window.
You will also notice from the reflection of the mirror that the wallpaper is not used throughout the hall. In order to elongate the space and draw you in, we have only added it to the longest wall that leads you through the house. This draws you in and due to its placement opposite the window it also captures and reflects the light.
On the remaining walls, we have used a very much lighter shade of paint which gives the busy side of the hall (the one with the doors, stairs and windows) a much softer look. It's all about balance and having a few well chosen pieces to draw the attention.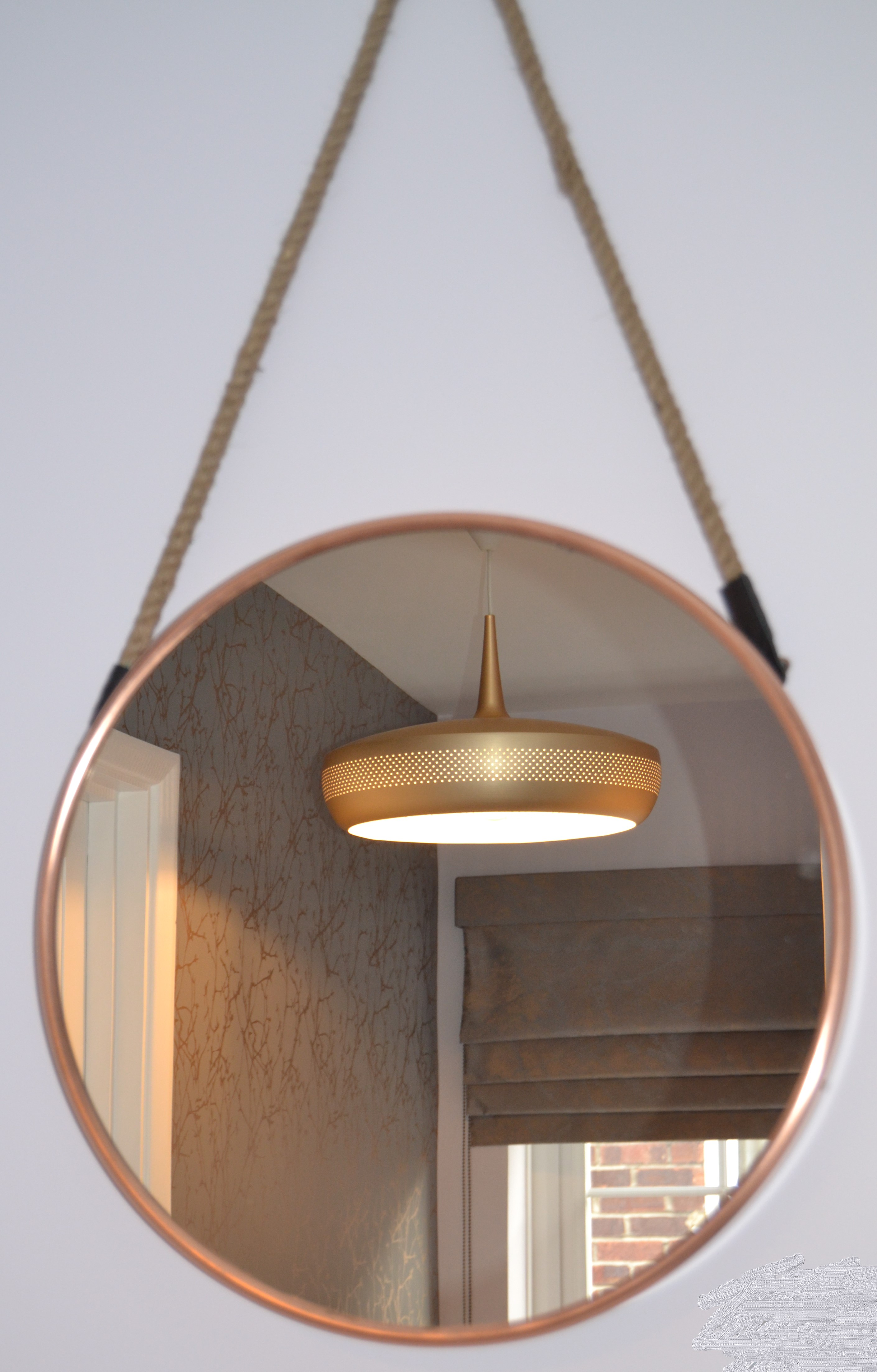 We love the current trend for round mirrors which work very well in a country or contemporary setting. For our client we chose this copper framed mirror hung on chunky rope which complemented not only the softer shapes from the other mirrors but also metallic colour tone in the light fitting as well as the metallic in the wallpaper.
If you are looking for a more classic or traditional finish think of using an elliptical mirror with a painted finish such as this one from Cox and Cox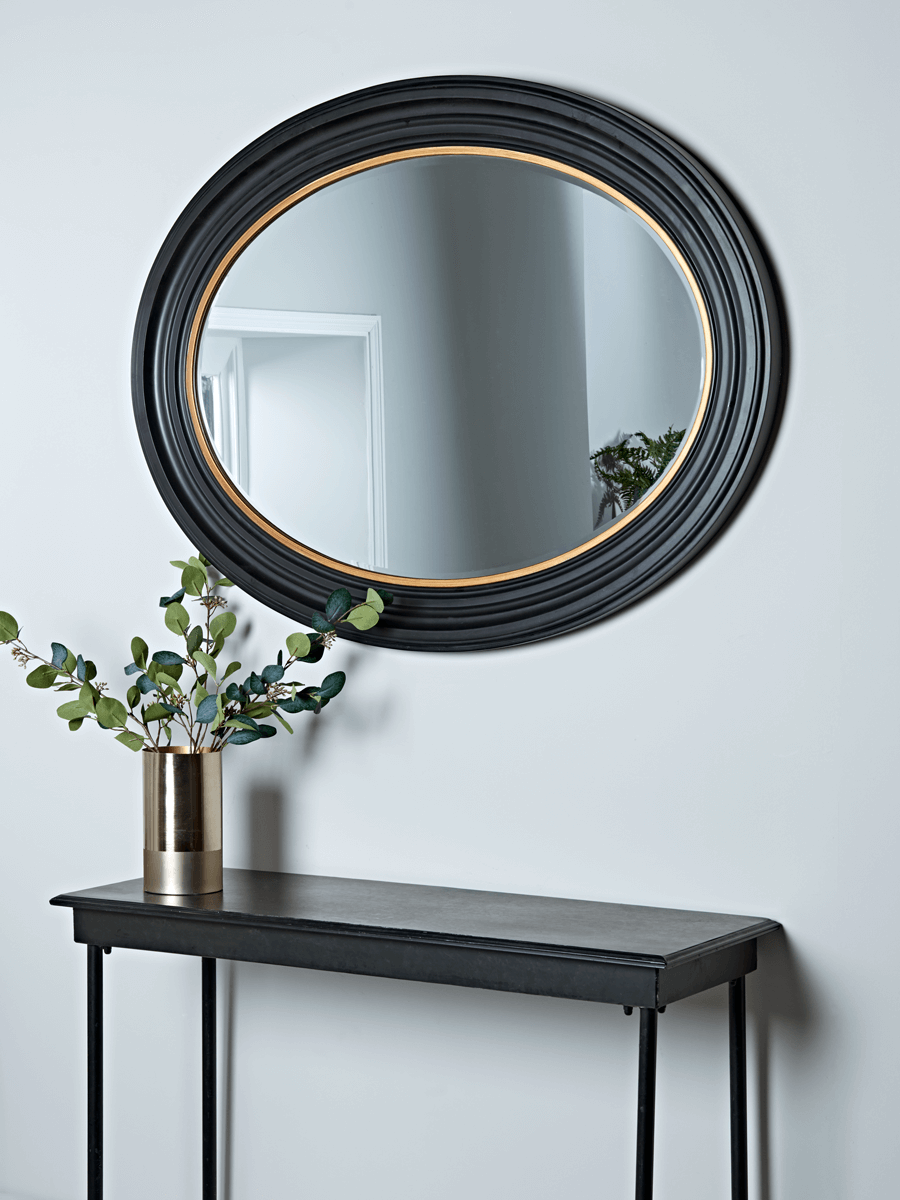 Underfoot
This room undoubtedly attracts a lot of traffic and often is the first place to take off outside shoes and boots. Whatever the flooring you opt for ensure that it is hard-wearing and easy to clean. Whilst the simplistic white washed boards of a Scandi style design can look fresh and clean think about practicality if you have a young family and a dog! For small or narrow entrances wooden flooring or a striped carpet laid in a vertical pattern will help to create the illusion of space with the floor stretching out from the front door. If the hallway runs to the stairs and stops at doorways consider a classic tiled floor to add pattern and colour however opt for neutral stair and wall dressings so as not to overwhelm. For open plan entrances match the flooring to the wider space to create a cohesive feel.
Other flooring styles to consider are:
Flagstone - very hardwearing and perfect for a well used entrance. However, this flooring is not very forgiving and may need to be softened by the introduction of rugs and runners.
Wooden or composite - a great option for all styles of houses and with a variety of patterns from classic boards to parquet brick, diagonal or herringbone there is plenty of choice to suit.
Tiles - a fantastic way to introduce pattern and colour into your home and with lots of choice to suit all budgets this is definitely an option to consider.
You will probably have to consider the stairs too in your hall design and with the trend for hard surfaces in the hall then a stair runner is a great way to link the hard with the soft, particularly if you have wood in the hall.
As you can see from this stair runner created by one of our trusted suppliers Hook Carpets the oak of the hall floor is carried up on the treads but the carpet, which is beautifully edged with a cotton binding creates the softness underfoot, which not only looks and feels great but also absorbs the sound when you are running up and down the stairs.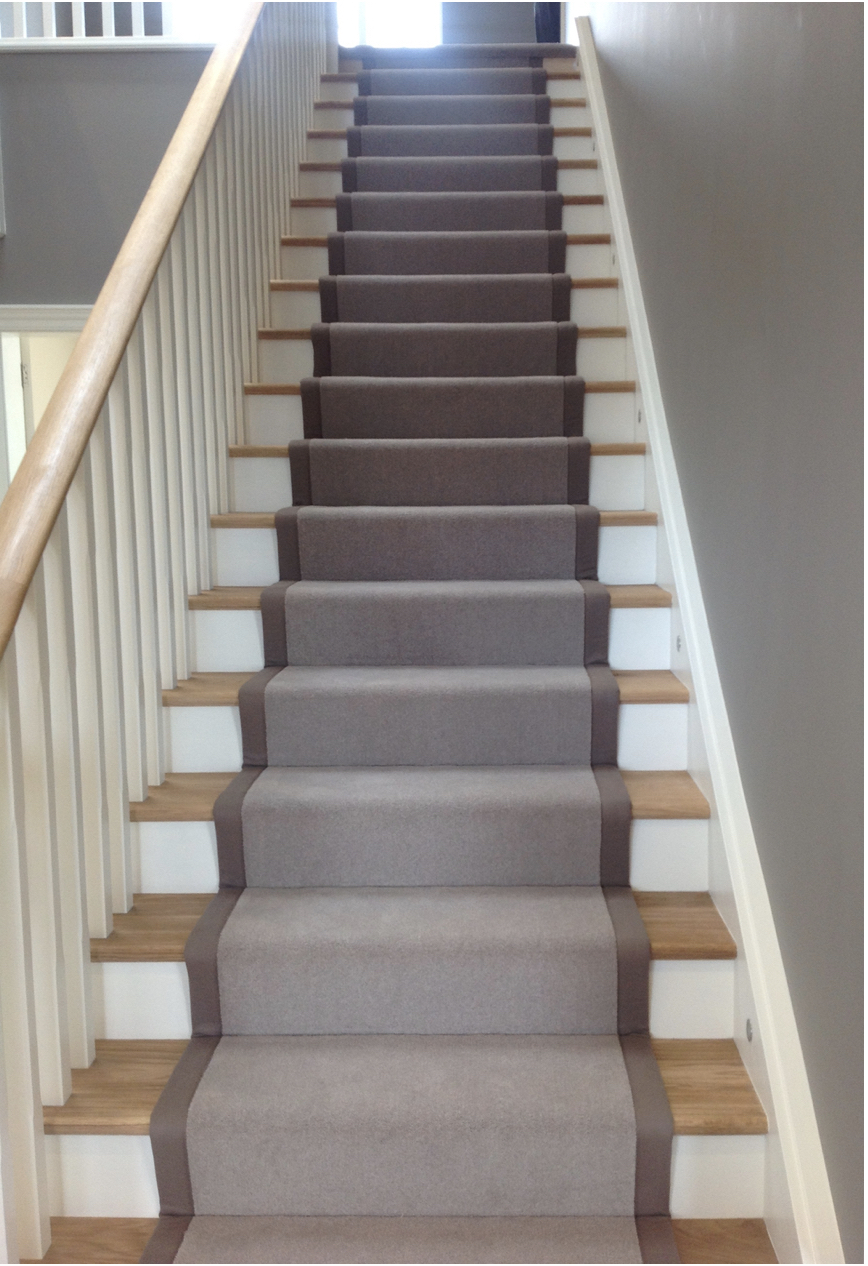 Narrow stripes also work well on stairs. The long lines help to elongate the space.
Also beautifully fitted by Hook Carpets.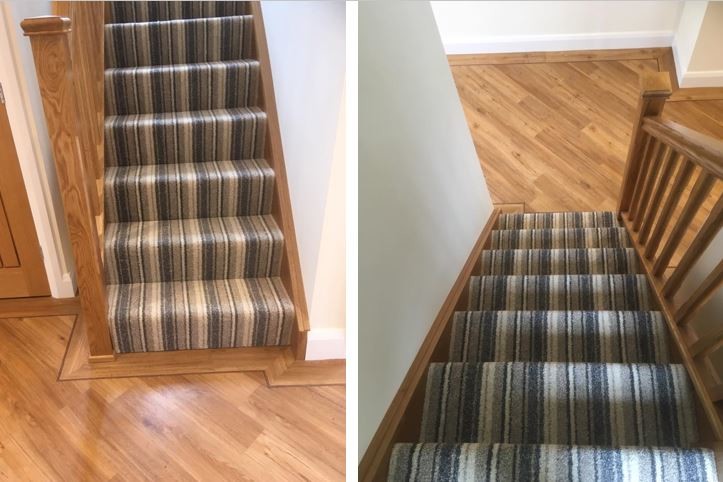 Colour and Coverings
The colour that you choose for your hallway needs to work with the rest of your home. It could be an accent from other rooms or, if your entrance leads seamlessly into other spaces use colours and wall fabrics to coordinate.
Originally used as a buffer to prevent furniture from scuffing the walls the introduction of a dado rail can help to elongate small entrances and works well for classic and country styles. Paint the lower half a darker colour which will help to hide marks and above the rail a light, complimentary tone.
The use of the dado rail, wooden flooring and vertical radiator in this hallway works perfectly!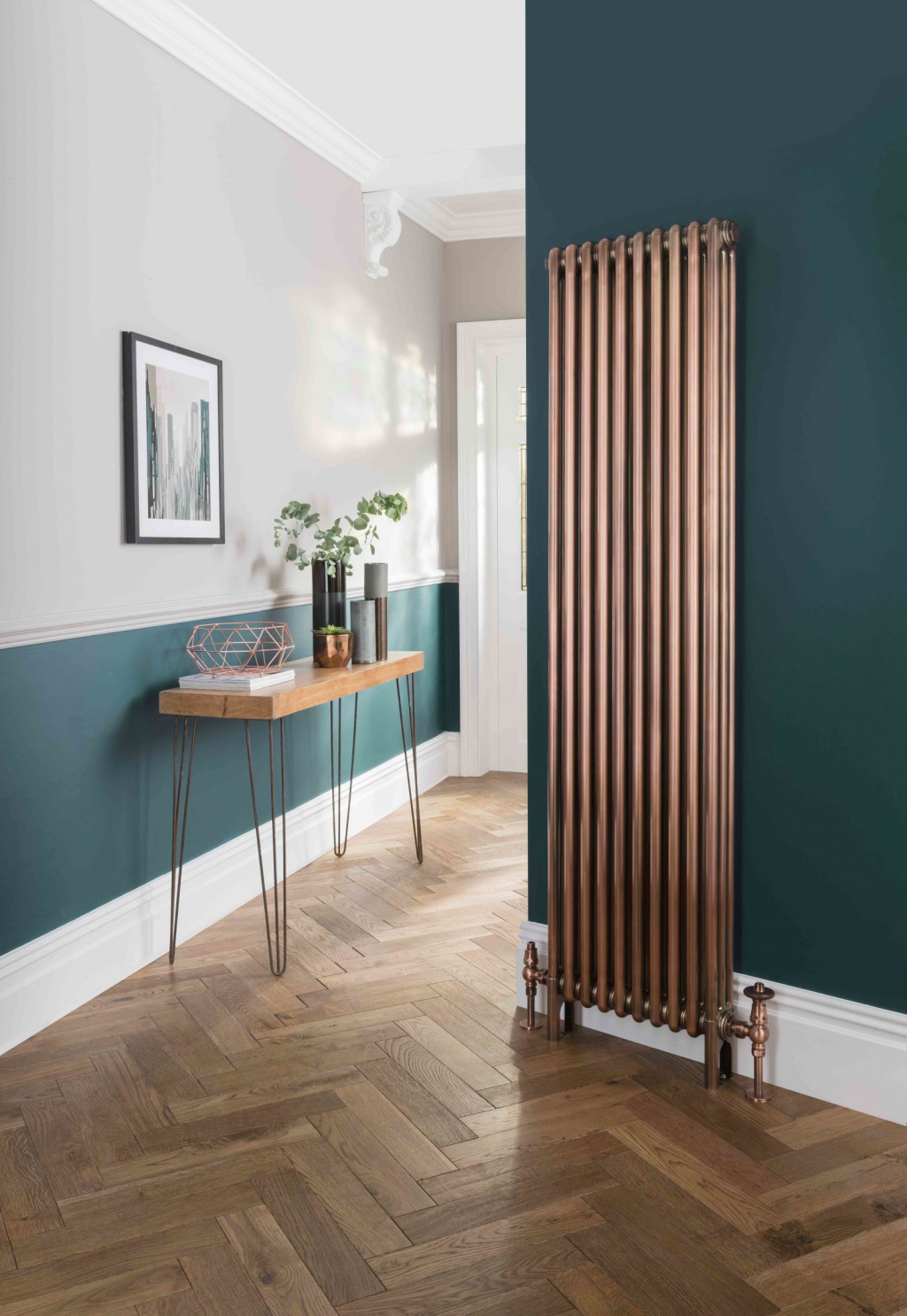 For further inspiration please view our Pinterest board: Making an Entrance.
Make a statement and don't be afraid to use bold colours!
Make The Right Entrance
It's not always easy to see how best to improve the entrance to your home and that is where calling in the professionals definitely pays off. We can can help you to realise the best solution for you and make sure that it fits well with your lifestyle. It all comes down to balance, repetition, scale and proportion mixed with style, vision and of course well thought out storage!
Our guide should be seen as just that, a guide for ideas and inspiration and the starting point for your room transformation - nothing in design is set in stone and a mix of styles, however eclectic may be the right path for you!
Making sure that you make the right entrance should not just be for the benefit of impressing guests it must work on a daily basis for you. We are on hand to help to maximise the impact of this important room.
Renaissance Interiors www.renaissanceinteriorshw.co.uk / 01252 220400