Inside Outside
15 May
Your home interior décor and style doesn't have to stop at your back door. At Renaissance Interiors, we believe that your garden should reflect who you are just as much as your interior spaces.
Gardens are as much an extension of your personality as your house and you should set the tone and highlight treasures as you would inside.
Framed by windows, your vistas are the largest canvasses you are probably going to own so why not consider how they impact on your everyday life?
Clever design flows from one room to another. By treating your garden as another room, you will help to unlock not only its full potential but you will also maximise your interior spaces adding length, light and interest all year round.
Additionally, if you are building your new home from the ground up, you may have the option to decide on the orientation of your home, which enables you to craft the natural light position to benefit your internal space as well as the outside space.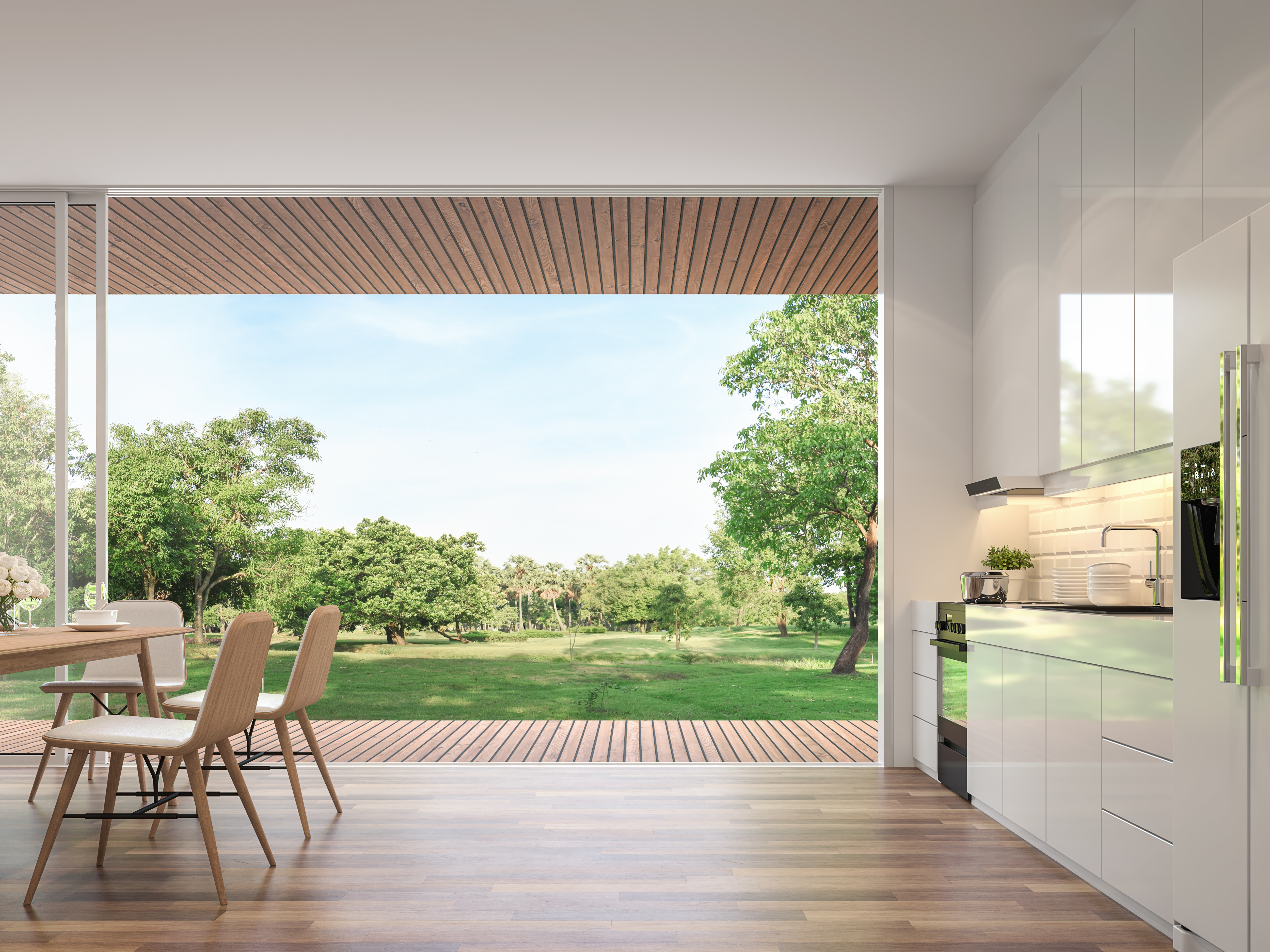 Inside to Outside
The transition from your internal to external spaces is very important and something to consider carefully and work to your advantage.
Seamless flow can be introduced with flush doors which glide, slide, fold or open to offer a stepless path between the inside and out. Flooring from the inside should be continued to the outside to continue an illusion of a larger space and carefully placed planting, furniture and accessories will merge the two areas together.
Creating outside space that is beneficial to you all year round is an opportunity you don't want to miss when remodelling your home. If you create the first floor to project beyond the ground floor, you are creating a covered area all year round. This will allow you to pop outside, sit or eat undercover regardless of the weather. Don't forget the lighting as this is a really important tool to create atmosphere and shape the space.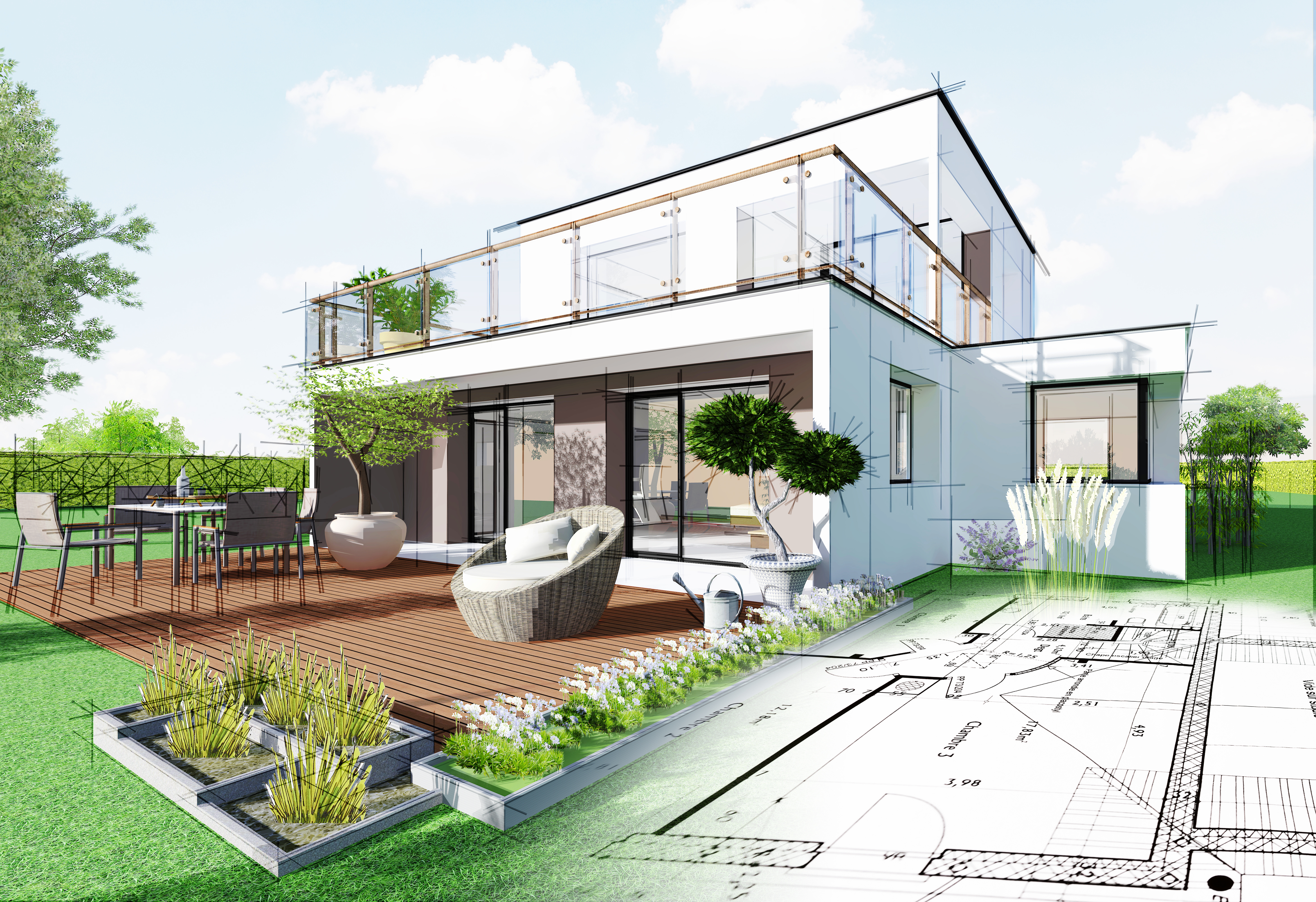 When faced with a level change which cannot be avoided, use it to your advantage! Use the change of perspective or contours underfoot to craft a view or to draw your attention. By elongating your view from inside your home to the outside makes the inside space feel larger.
How you frame this view beyond the walls of your home also has a huge impact on how it presents. Consider how your windows and doors will frame the garden. Single glazed panels will help to continue the illusion of larger spaces even when closed.
Sleek aluminium frames offer a contemporary finish and work well with a modern planting scheme. For a country cottage or traditional house and garden, painted wooden French doors may be more desirable. Folding wooden framed doors offer a traditional look when closed and an open seamless flow when open.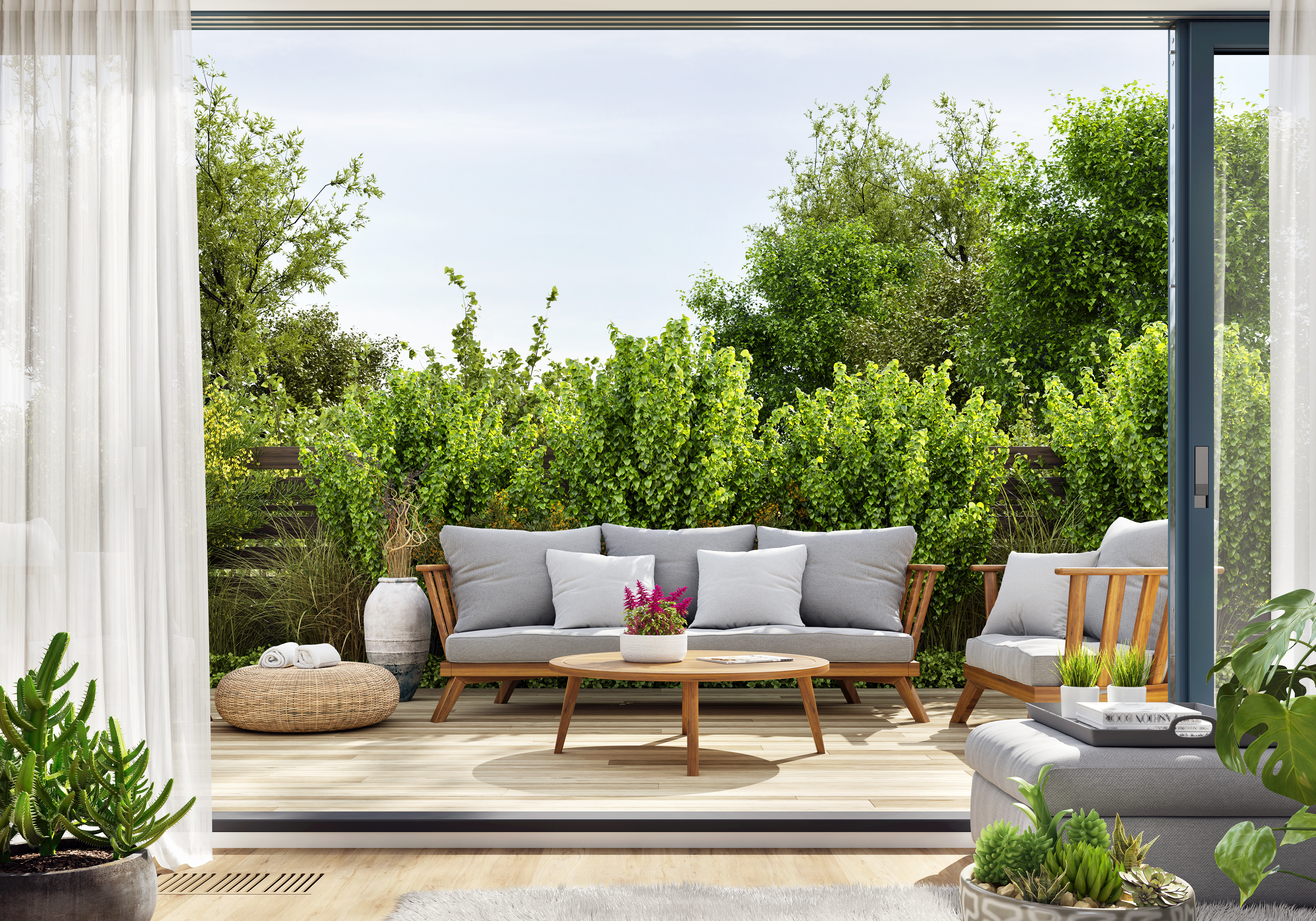 Window dressings should be considered too. I know that the trend is to have large open plan rooms with little or no window dressings, but beware of this look as it can be a mistake in the British climate.
The open unencumbered view may work on beautiful endless sunny days but when the nights draw in and the wind is howling and the rain is falling, those large glass eyes on the world will become big black holes in your home and will look anything but inviting.
Build in the solutions for the style that works for you. If you want to retain the minimalist look concealed ceiling mounted blinds remove the necessity to have a pole or fabric drapes and are especially effective on large windows. These are also a consideration when clearance either side of a window or door does not allow for the stack of a curtain.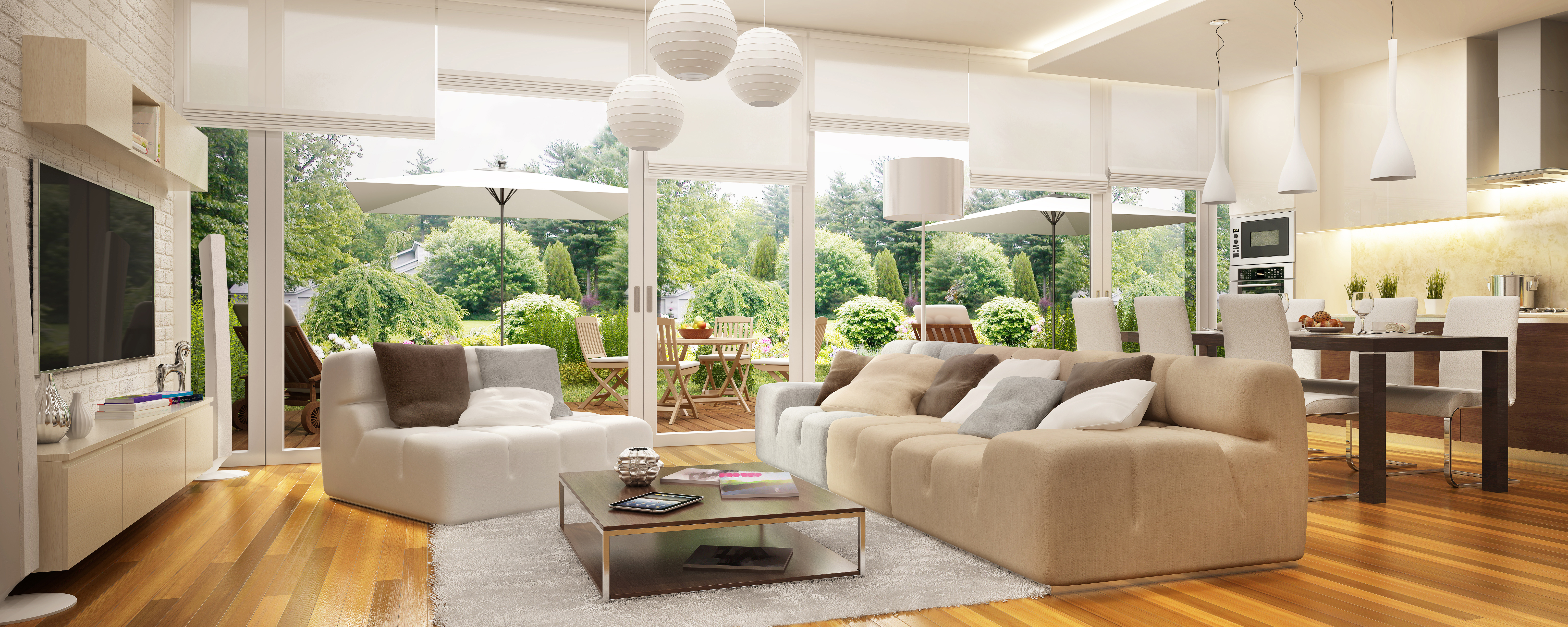 Ceiling mounted blinds offer a sleek solution and remove the necessity for a pole or drapes
If you would like a softer cosier look then curtains are the way to go but ensure that you create a stack to sit over the walls that does not inhibit the light or the view that you are creating. A variety of fabrics can be used from heavy fabrics to the lightest voile and team these with easy pull or automated tracks to make light work of opening and closing.

Reflect Your Passions
If you're in the privileged position of starting your garden from scratch you have the best opportunity to make the most out of your outside space and for it to work as an extension of the inner rooms.
Employing the skill and talents of a garden designer and landscape architect to work with your interior designer is highly advisable and will ensure that you utilise your space for the optimal impact. The is the perfect opportunity to create a garden which reflects your passions and lifestyle.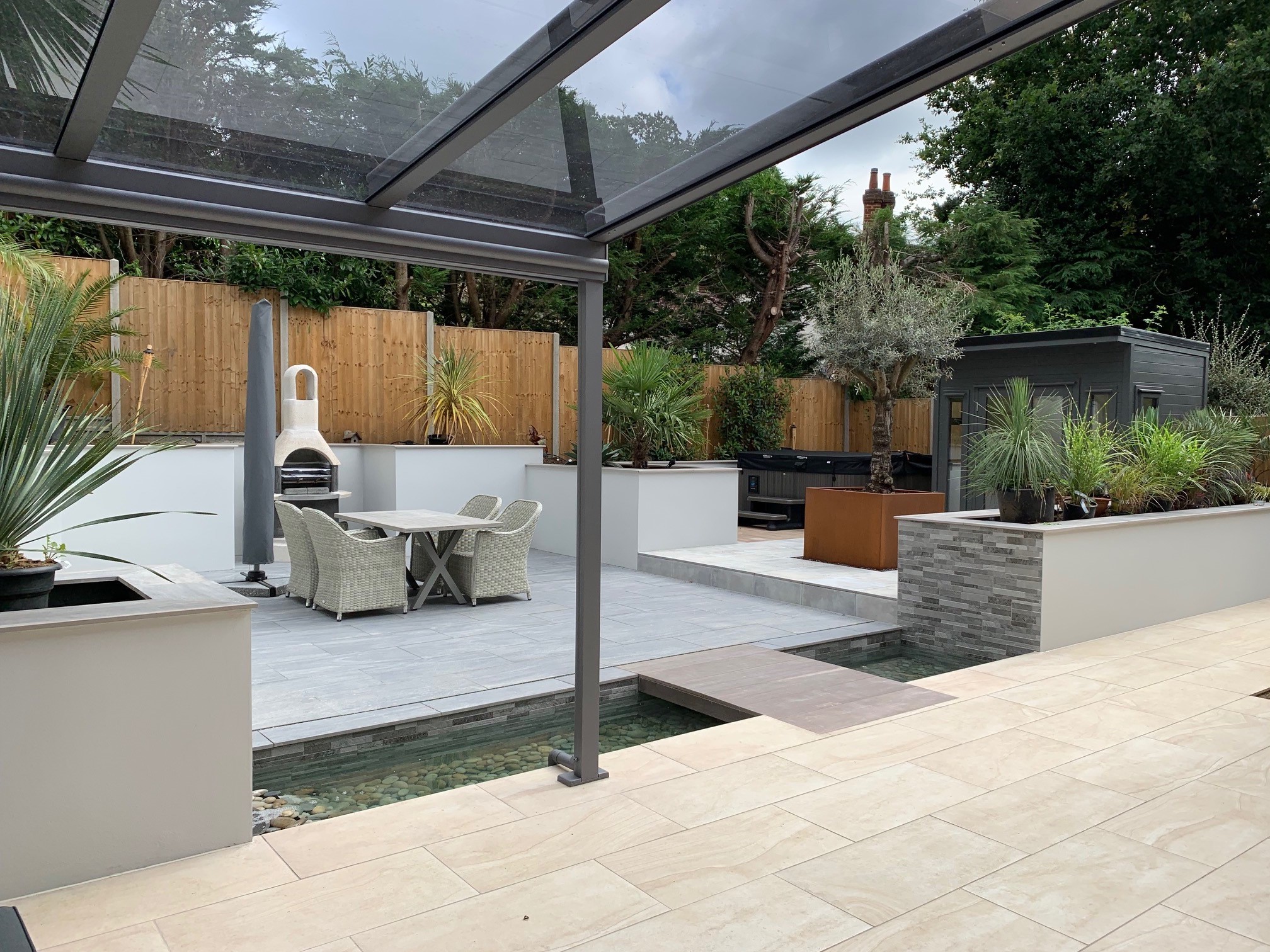 Outside cooking and dining space incorporated into a fabulous garden design by Join Us Outside
If you love to entertain and particularly if you're a keen chef, an outside kitchen is a must! Consider extending beyond a standard BBQ popped on a patio to one which has purpose.

Creating a designated cooking zone with built in prep area, outside sink and even fridge will enhance your garden dining experience and as everyone knows, the best parties are always in the kitchen!
We love the garden kitchens from Grillo. The fitted outdoor cooking functionality marries perfectly with inbuilt dining and seating areas helping to transform the garden to a truly sociable entertainment space, which would be available at a moment's notice. No more dragging furniture from the shed or garage and prolonged set-up times when the entertaining mood takes you. It's there and ready to go.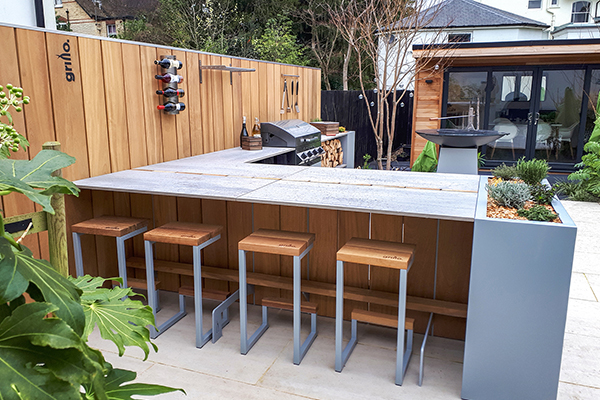 Fabulous garden kitchen from Grillo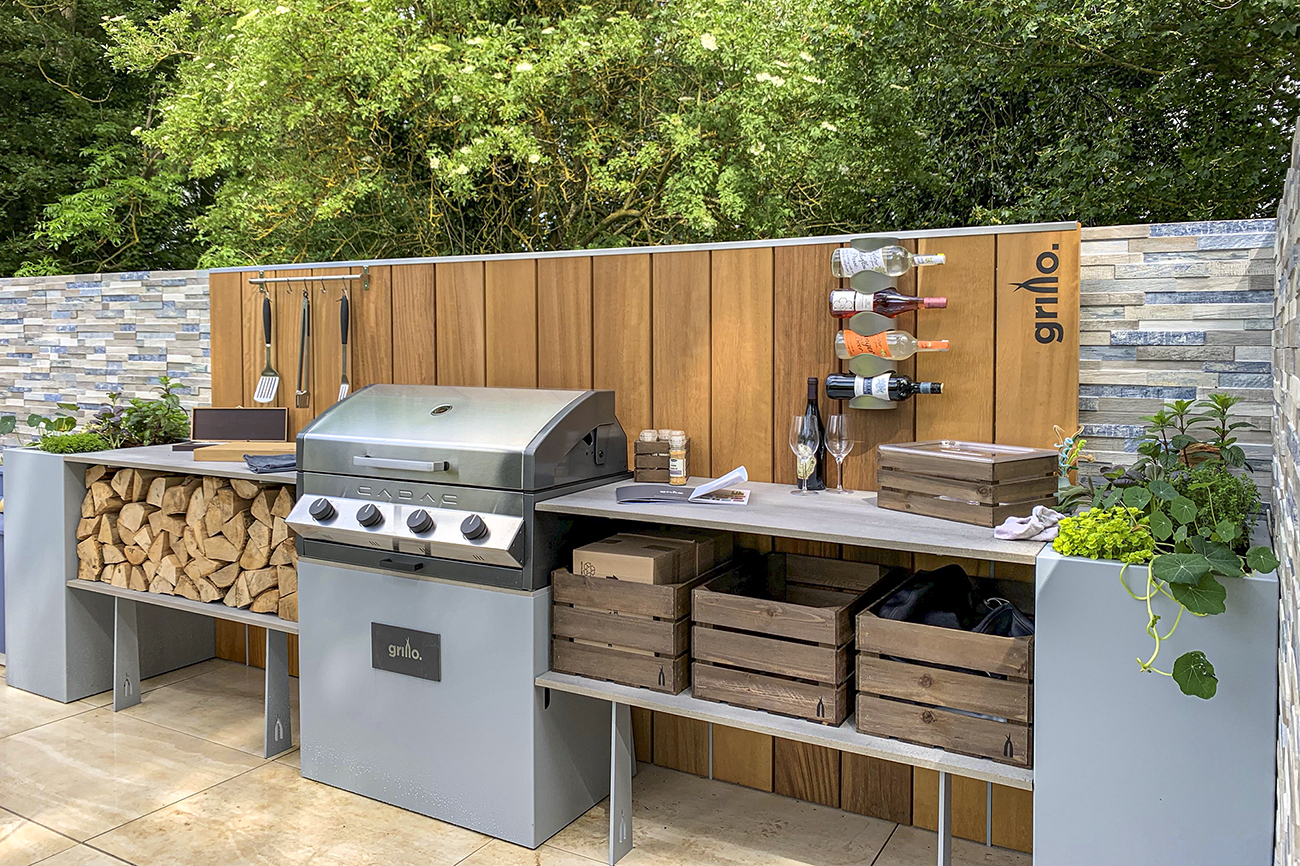 Take your outdoor cooking to another level with Grillo
Build in Space to Relax
Every garden needs a space to relax in and none more so than those belonging to busy families! Whilst a lawn is great to have for budding football stars, endless cartwheeling and charging around on, a quieter area is also highly important.
Much the same as a reading nook or a chill-out space indoors, a dedicated area for quiet contemplation or just a space to sit for a few moment is very important. Mix this with the soft trickle of water, then you have the perfect place to relax.
Using water in garden design always adds another dimension and I'm a big advocate of water features as they are so relaxing.
A super relaxing feature for your garden is the hot tub which is having a resurgence in popularity. Whilst it comes with its own set of considerations; safe access, drying facilities, drinks table whether it's recessed in the ground or sits above, it may be something you wish to incorporate within your design.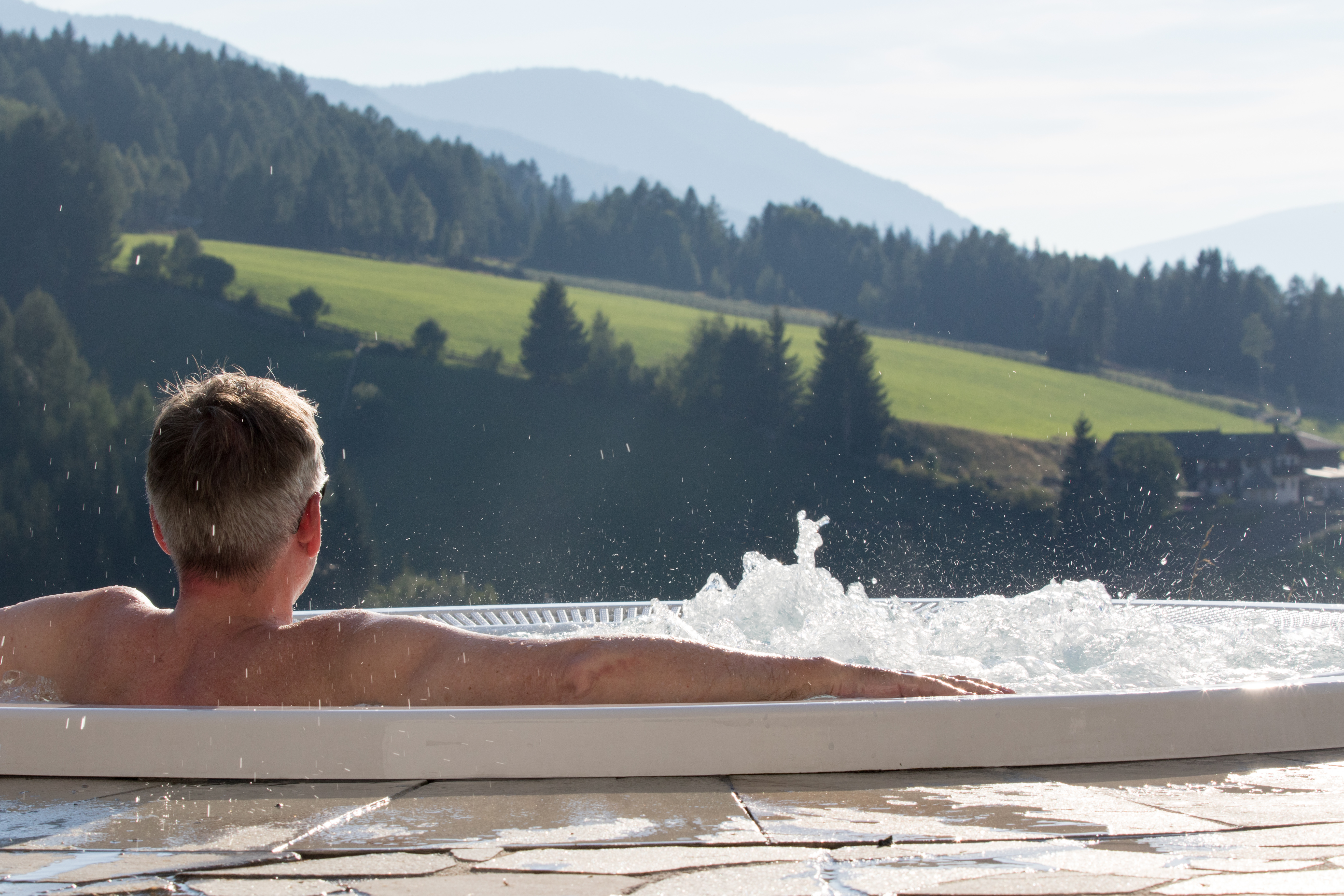 Even if you only have space for a small chair or a bistro set, make it fabulous with lights, plants and accessories.
Complete your relaxation area with an outdoor/all-weather rug and cushions in much the same way as you would an inside lounge.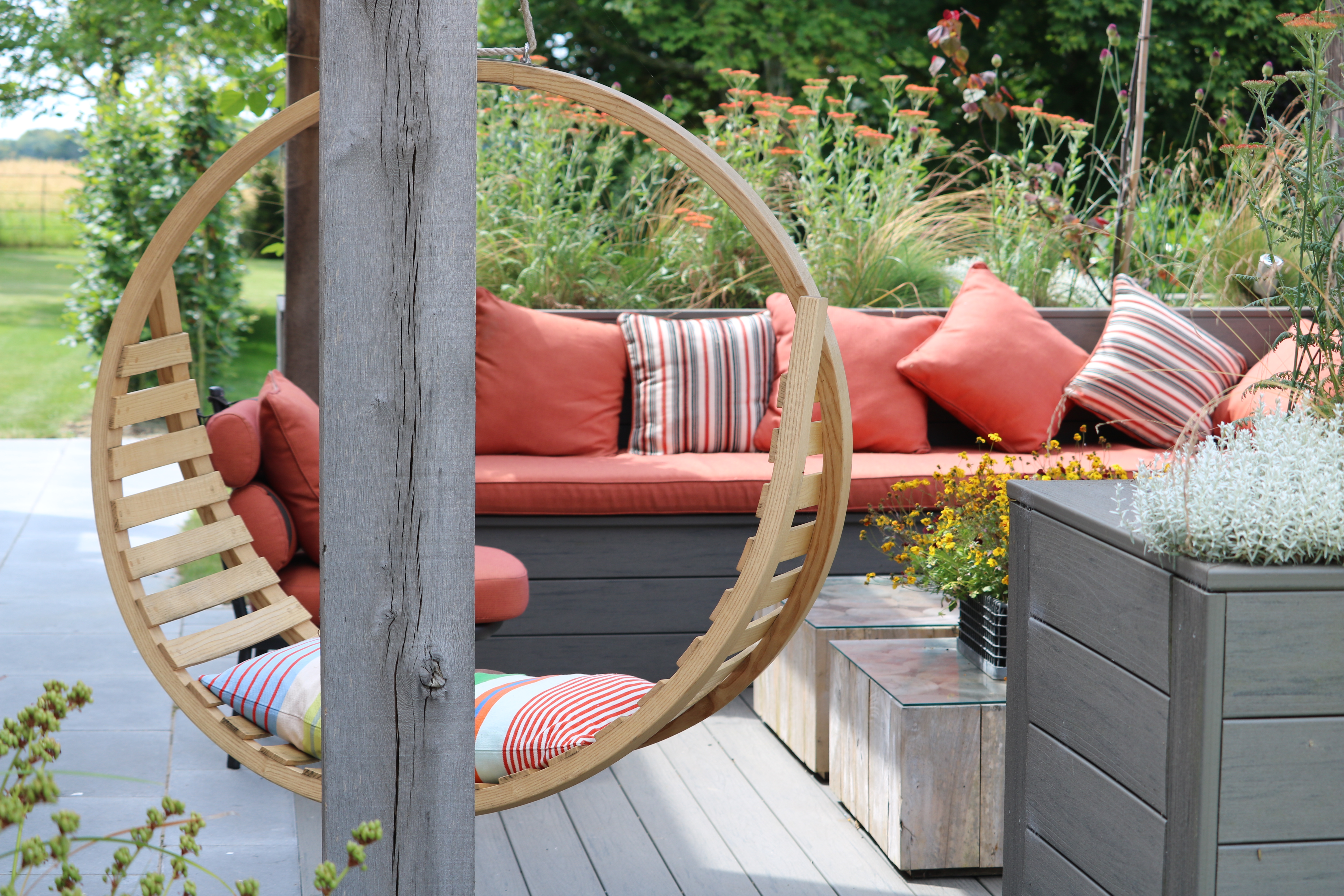 Wonderful outdoor relaxation space designed by Join Us Outside
Light your Green Spaces

Lighting for your outdoor spaces follows the same rules as your internal rooms.
You may not need so many pendant lights but you should consider function and mood when making your decisions.
This is not a feature you should overlook. There are many options from floor level guidance along paths, mood lighting, dramatic uplighters to throw light onto trees or garden sculpture as well as functional light to eat an evening meal by.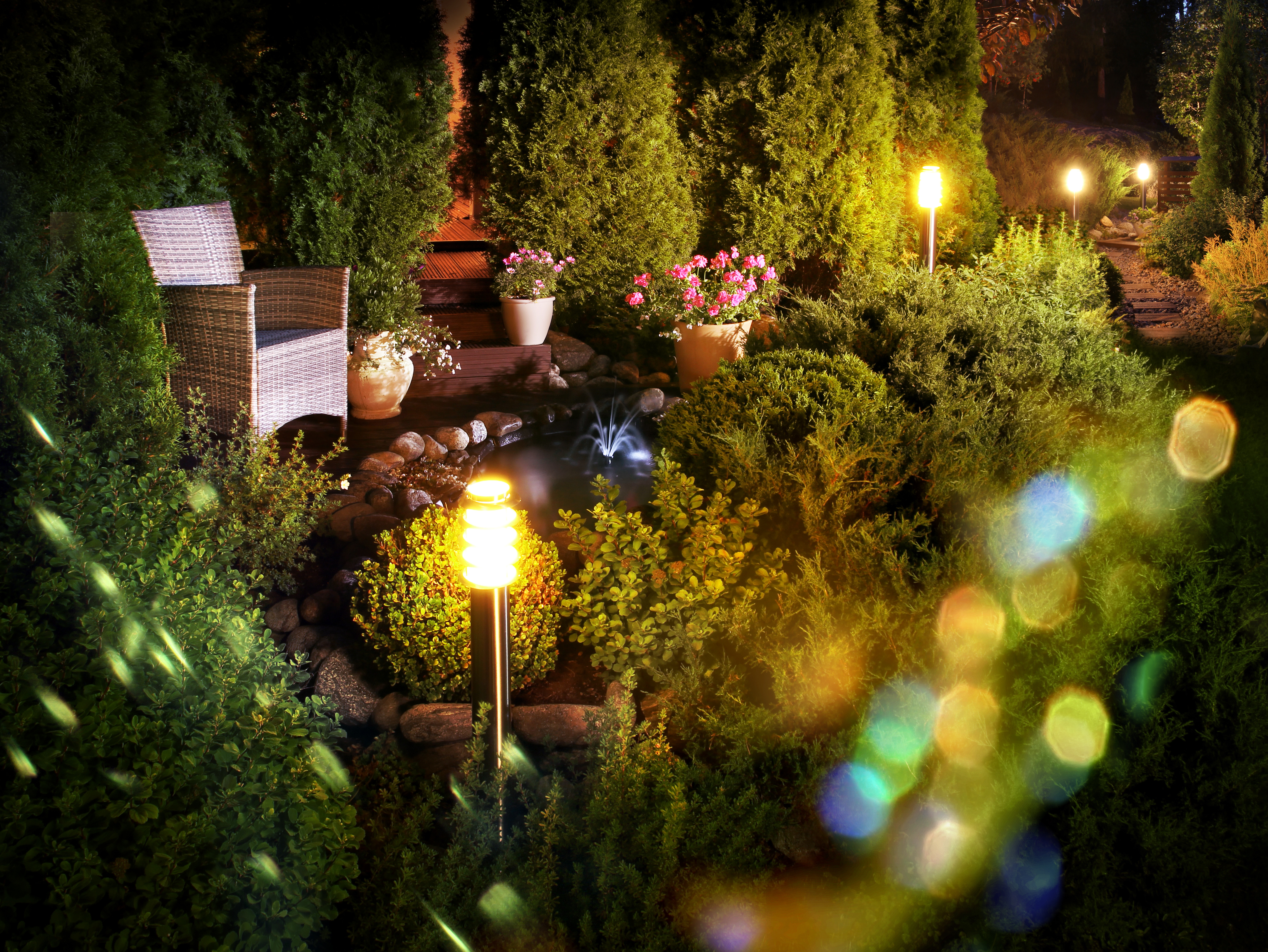 The lighting style should flow well from your internal rooms and consideration should also be made on the light bulbs that are used as well as any visible flexes.
Next Steps
In just the same way that we believe Interior Design is an integral part of an extension, remodel or new build, your garden should also be considered up-front. Making the right choices early in the design process will ensure that you maximise the flow from the inside to outside.
Clever design is built into the beginning of projects and not retrospectively and expensively bolted on afterwards. But, if you do need to create your outside space in a different time frame from building your new home, ensure you build in the provision for electrics and water so that you can tap into them when you're ready. You certainly don't want to dig into new walls and floors to find the sources when your garden build is about to begin.
If you're planning some big changes to your home or looking to maximise the impact of your interior and exterior spaces, call us to see how we can help.
We work with may leading architects, builders, garden designers and landscape architects to ensure that the entire footprint of your land is enhanced to its full potential.