How to stay cosy this winter
26 Oct
Keeping your home warm this winter is a cause for concern for many this year. Many of us are worried about the hiked cost of living with the massive increase in gas and electricity bills. Of course, we can wear another jumper or thicker socks, but how else can we insulate our homes to feel comfortable at home?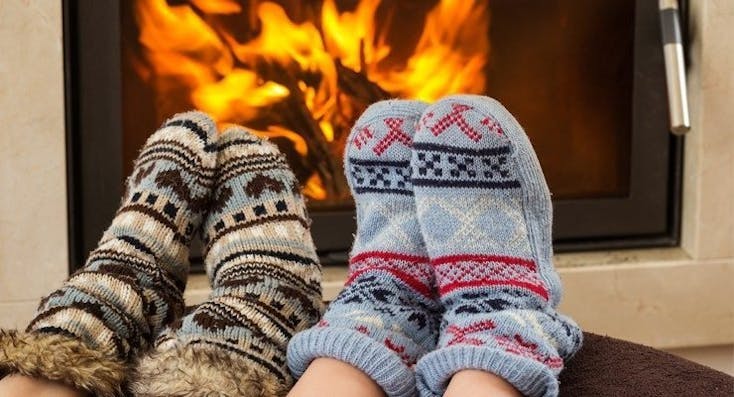 Windows are a main source of heat loss in a home. Double or triple glazing certainly helps, but heat will still escape from your windows if they are left uncovered in the midst of winter.
One of the things that many people have these days, are large bi-fold windows in the main living space incorporating the kitchen, dining room, and very often some kind of snug area with a TV. These bi-folds look great and are fantastic for that in and out flow during the summer months, but in the winter, when it's getting dark at about four o'clock, those large windows become just big black holes. However, not only are they not good for great for privacy, but with the vast expanse of glass, the heat will escape from the room. What we need to do is insulate the room by putting curtains or some kind of window dressing over the window.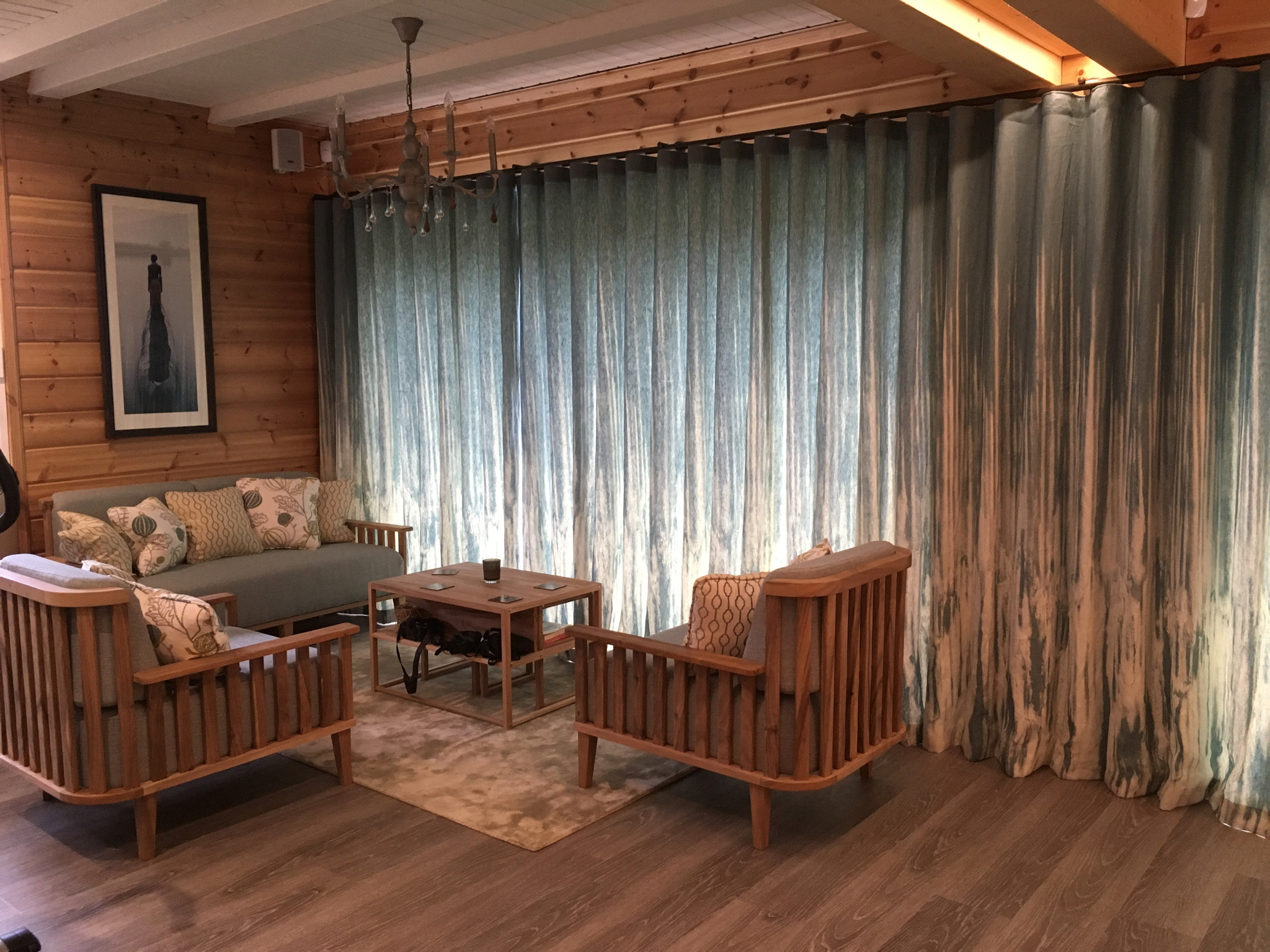 As with ourselves, the more layers we wear the warmer we are and the same is true of window dressings; the thicker the curtain, the more insulation you'll have and the warmer your home will remain.

If you have really wide window, then a curtain may be the best option. If you want a light covering, obviously the lighter the covering, the less insulation, but something is better than nothing. You could opt for a voile curtain, which is a very thin layer of translucent fabric, but this will still create a barrier between the warm side of your home and the glass and will add an important element of privacy. Most importantly, your curtains will create an air gap, and this air gap will then create some heat retention in the room.
The next best option would be to have lined curtains. Lined curtains give you an extra layer of fabric. The face fabric can then be anything from lightweight cotton to a heavier embroidered or a chenille fabric or a linen weave. Having a thicker face fabric and a lined only curtain gives you that extra body of fabric to retain the heat and prevent it seeping out through the window.
The very best for insulation in your room is to have an interlined curtain - a fluffy blanket-style fabric, which goes in-between your face fabric and your lining. There are different grades of interlining from a very lightweight synthetic fabric all the way up to a very heavy cotton weave. There are pros and cons to each different kind of interlining, but they all do the same kind of job. It's like putting a blanket over your knees to keep in the heat! The interlining does the same thing, giving the fabric more body and therefore the heat is less likely to escape out through the window.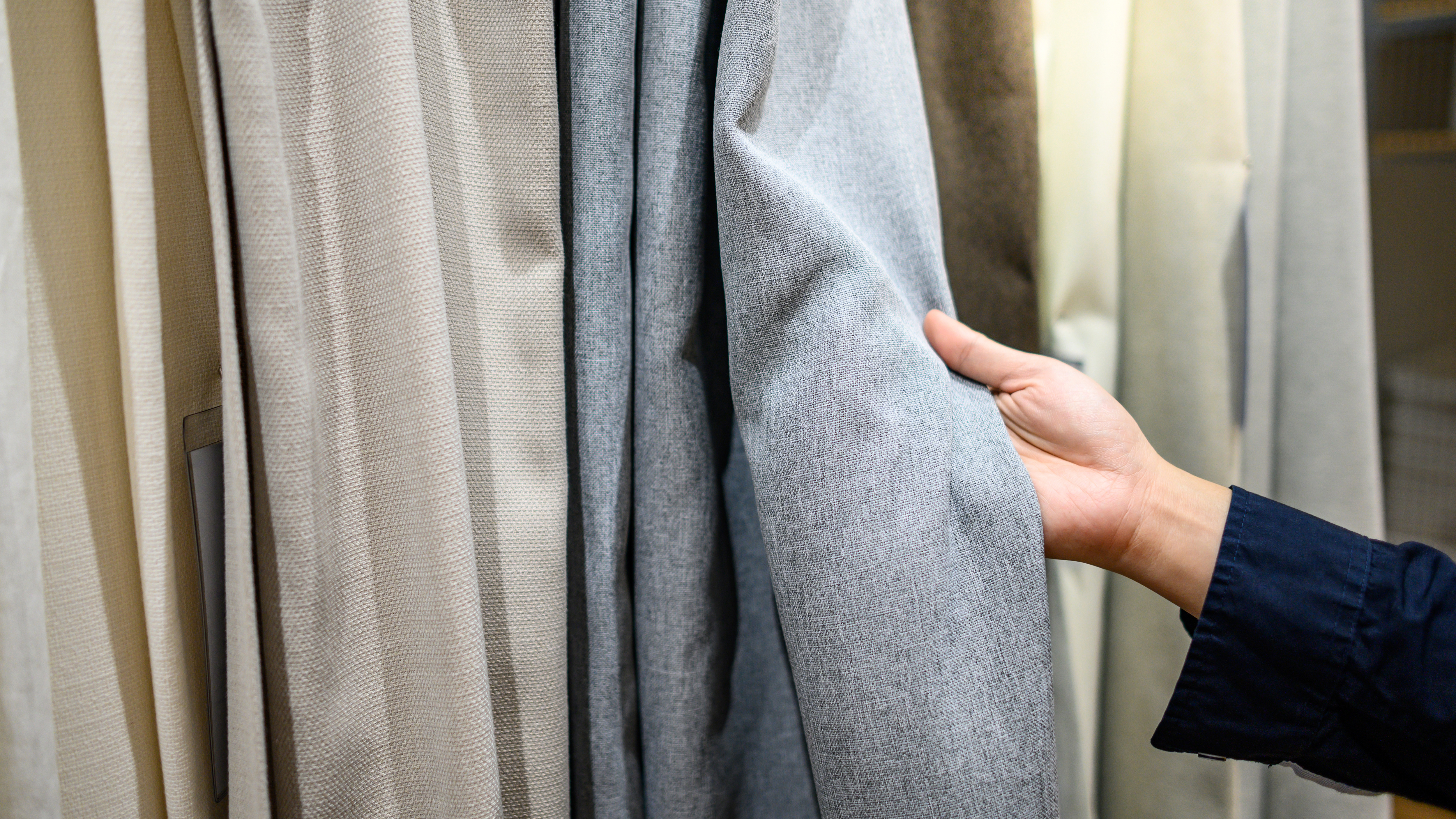 The other thing we need to consider is the lining. Traditional lining is a breathable cotton sateen fabric that light and air passes through. If you would like to have something that is more insulated, then you can have a thermal lining or blackout lining, which is impervious to light and also drafts and therefore the heat will stay in the room. So, when we're thinking about curtains, all of this can apply to any room in your home.
We also need to consider what kind of curtain tracks we are going to be using too taking into consideration the weight of the curtain. If the face fabric is very heavy, the right kind of tracks to support these will need to be used.
A traditional curtain pole with rings can only be supported by a bracket in the middle and a support at each end. And if you've got a really wide window, your curtains will need more support than that. However, if you do like to have a ringed curtain pole look, some manufacturers make a metal C-ring, which means you can put additional brackets up to support the pole, and then the specialist c-rings will glide over the neck of the wall bracket. Now, these are not as readily available as a traditional curtain pole, but they also come at an additional cost. So that's one thing to bear in mind.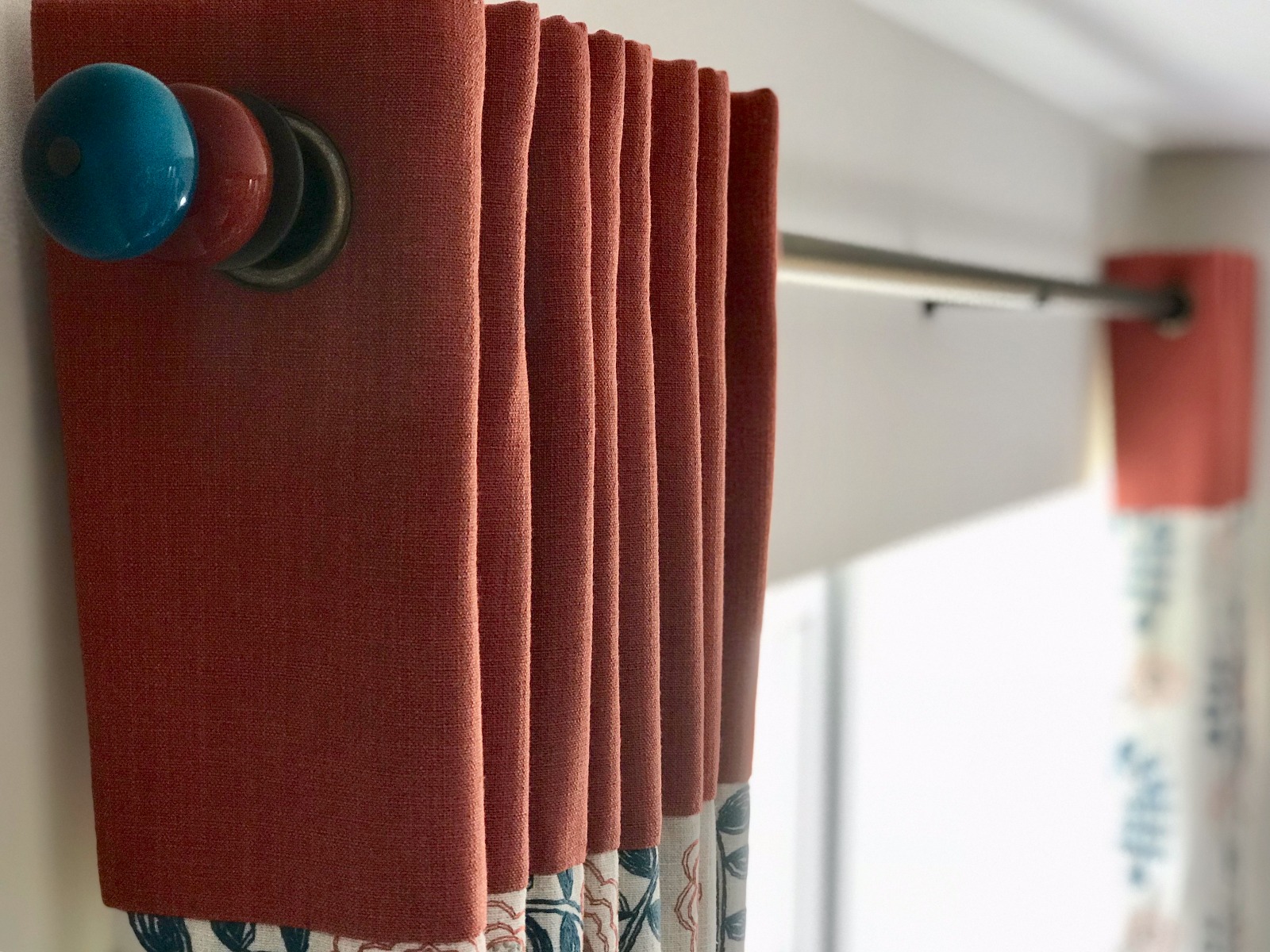 One of the other problems with a traditional ringed pole, particularly a wooden ring on a wooden pole, is the glide. Over a wide distance with heavy curtains, this becomes an almost impossible task to be pulling your curtains on a daily basis because the wood rings on wooden pole creates drag, and therefore it becomes a very hard task to open and close your curtains regularly. I would not recommend this for anything larger than a three metre span. There's a couple of curtain pole manufacturers who supply a wooden pole with a glide strip on the top, which is basically an inset strip of plastic, which isn't visible from the room, but it allows the wooden rings to glide over the pole slightly more easily.
I wouldn't recommend this with heavy curtains over a wide expanse because it is very hard to do and you'll end up ripping the curtain headings and damaging the curtains in which you have invested. Now, if you are building a home, you could build a track into the ceiling, and this is a good way of creating a streamlined solution. You could connect the track into the joists, and then you can plaster up to it so you have a minimal impact. And when the curtains are open, you're barely even aware that the track is there. When they're drawn the curtains go from floor to ceiling and therefore creates an almost complete seal against leaking drafts.
There's such a wide variety of curtain tracks and poles that are available with different price points, and we're always happy to help you choose the right options for your windows.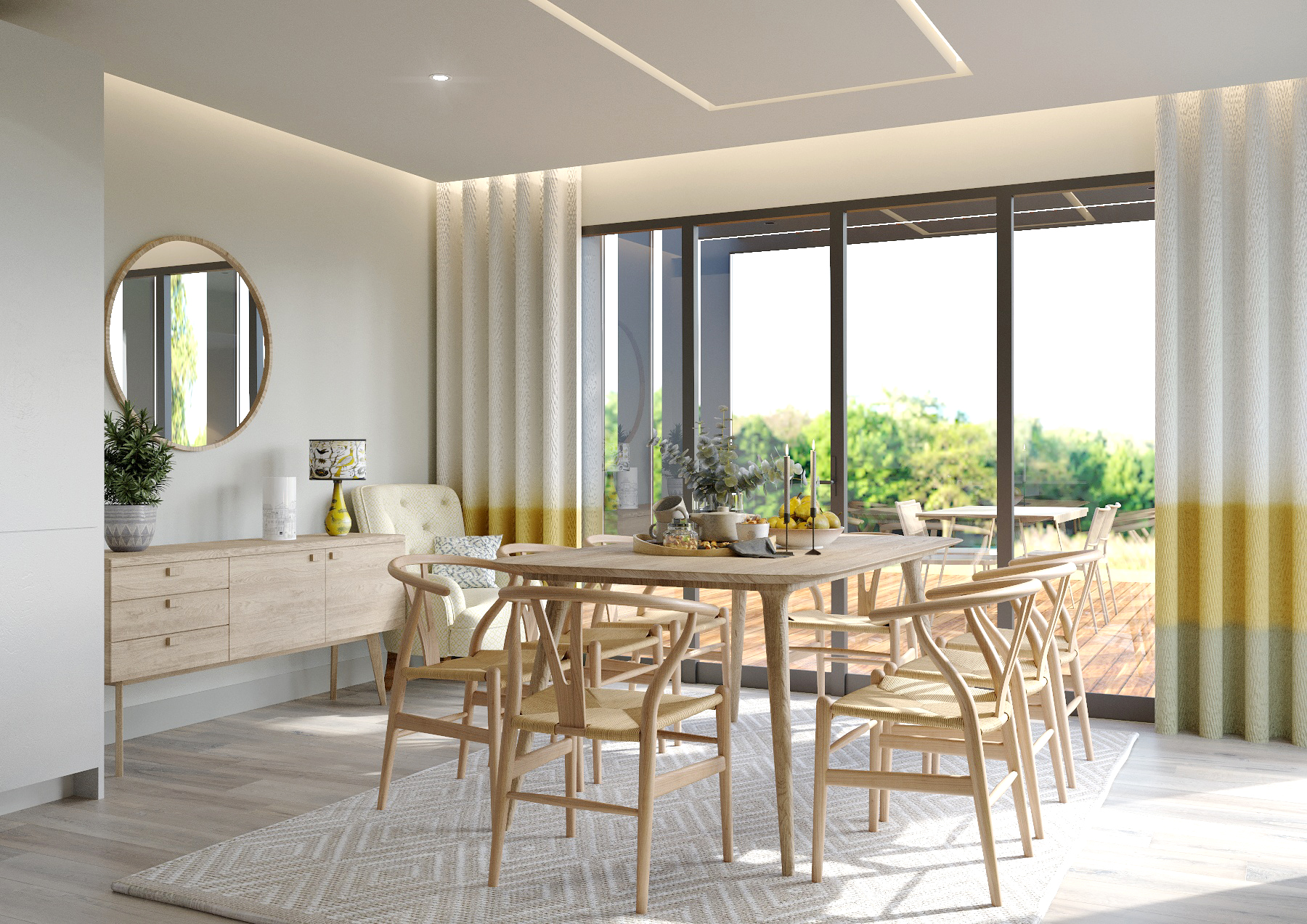 Other options for windows in your home are roman blinds and the same principles apply. You can have, a lined-only Roman blind, which has the face fabric and the lining, or you could have an interlined roman blind, which has the three layers as we've discussed before. However, there's another option, which is a bonded interlined fabric, which means that the lining and the interlining is bonded together, which creates one physical layer, but it's actually made from two layers of fabric. So, you get a two for one in that, which is a good way of combining and getting the insulation of the interlining without paying the labour cost of adding another separate layer into your blind.
If you'd prefer something less tailored and don't mind few fabric choices, you could select a double layered pleated blind. The extra layer is important because it creates little air pockets in the honeycombs that are created by the two layers. T
hese can be motorised as well as hand operated. The motorised option is important if you choose them to sit over multiple panels of window for two reasons. One is to prevent the need for chains hanging into the path of the view or because larger blinds become too heavy for manual operation.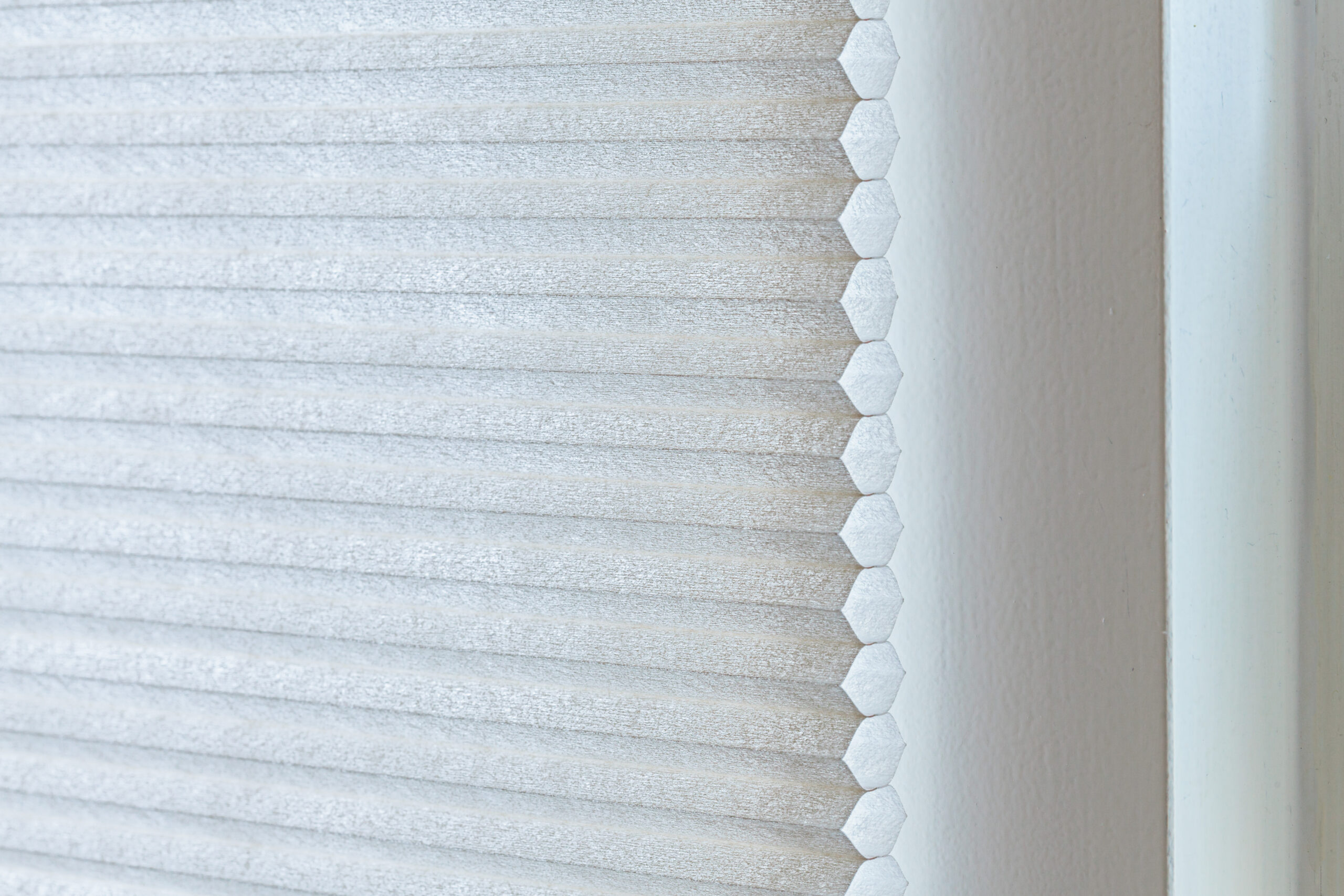 Creating those air-pockets to retain heat is really important for curtains too, meaning that the fuller the curtain, the more pockets you create, which offers increasing insulation, which is why curtains are more effective than a roman blind, although I am a big fan of a beautiful interlined roman blind.
Whatever option you choose, there are options within options and it's better to discuss that with your design professional to help you find the right combination. You can contact us via our quick and easy form and we'll get back to you with a date and time for a Discovery Call to discuss your window dressing needs!

And if you want to stay warm this winter, then window treatments are as much of an investment as the bricks and mortar of your home. We're always happy to help and advise, and remember that what keeps the heat in during the winter can also help keep out the summer heat in the warmer months.
We wish you a cosy winter.