Colour Your Life
22 Jun
Lighting is a very under estimated dimension within a design. It enables you to create several different moods in the same room, shaping your emotional response and adding another texture.
Recently we've had lots of interest in the new innovation in smart lighting by Philips so we thought we'd give you the low down on what Hue, personal wireless lighting is all about.
In a nutshell Hue is a lighting system which enables you to control your home lights. Whether you are looking to create a specific mood, control the ambience in a room, create a party atmosphere, add an extra dimension to movies, gaming, and music, or enhance your home security, all can be achieved with the power of smart control. The Hue system seems to have limitless possibilities!
"Philips Hue is your personal wireless lighting system that lets you easily control your light and create the right ambience for every moment."
With a wide product range from starter kits, bulbs, light strips, spots, recessed, lamps, indoor and outdoor, controls and even portables you configure and customise the lighting system to suit your needs. What's more, as the bulbs work with any standard light socket (wall, ceiling or lamp) you won't necessarily need an electrician, keeping you fully in control.
The technology enables you to control the lights with the Philips Hue app and third-party apps. You can even connect this lighting system to iPhone/iPad Siri voice controls, your Amazon Alexa, Google Assistant or Apple HomeKit for a truly automated experience. It's even possible to control the timing and action of your lights when you are away from your house managing the security of your home for added peace of mind and to turn on your lights ready for your return.
What's what?
There are four main components to installing this smart lighting system in your house:
Bulbs - choose from the Hue range: E27 (27mm screw), B22 (22mm bayonet), GU10 (spots), E14 (14mm small screw candle) all available in white or colour. All lightbulbs are expected to last approximately 25,000 hours, withstand 50,000 switch on/off actions and have an instant turn on.
Bridge - the Philips Hue bridge connects to your home router via a network cable with the lights being controlled via an app. The lights will not work without this!
Router - any standard home router with wireless network capabilities will be fine. If you plan to control your lights with a home automation system such as Alexa this will need to be on the same network.
Philips Hue App - a free download to set up the connection. With this app you are able to set up lights, name rooms and set controls. Other third-party apps will work with this system however you have to start here first.
There are many physical and online shops where you can purchase starter kits and components however a good place to start is the Philips Hue site where prices range from £19.99 for a dimmer switch, £129.99 for an ambient white bulb starter kit through to £499.99 for a ceiling light. A simple search will highlight a range of prices from the best known online stores.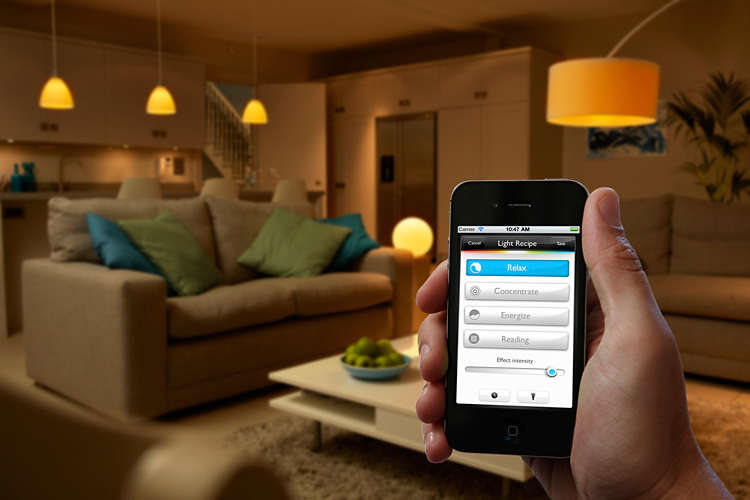 Once the bulbs are installed, the bridge attached to the hub and everything connected via the app, then the fun can start!

Home Automation
If you already have a home automation such as Amazon Alexa, Google Assistant or Apple HomeKit you can use voice controls to change your lights bringing a little bit of the future to your present day!
If it's more than a simple "Alexa switch the lights on" command this may need a little bit of patience to set up. There are lots of online guides to help you a few that we have found useful are:
Remember, your home automation system must be on the same router as the bridge to enable it to work.
Enhance your music, viewing, movies and gaming!
You can add a whole new level and create immersive viewing and gaming where your home lights react to what you are watching. Using the camera on your phone or tablet and a third-party app such as Hue Camera for Philips Hue (Apple), hueDynamic (Windows), or Hue Matcher (Android) and your lights will synchronise to meet the ambience of whatever you are watching. If for instance, you are plunging into the depths of the Indian Ocean with Sir David Attenborough in The Blue Planet your app will choose the right shade of blue to enhance your viewing. What's more, when tension mounts your lights will change to help intensify the moment!
It is even possible to control your ambient lighting when viewing off-screen photographs and paintings. Simply download your preferred app, run through the settings, and position your phone or tablet towards the screen or image.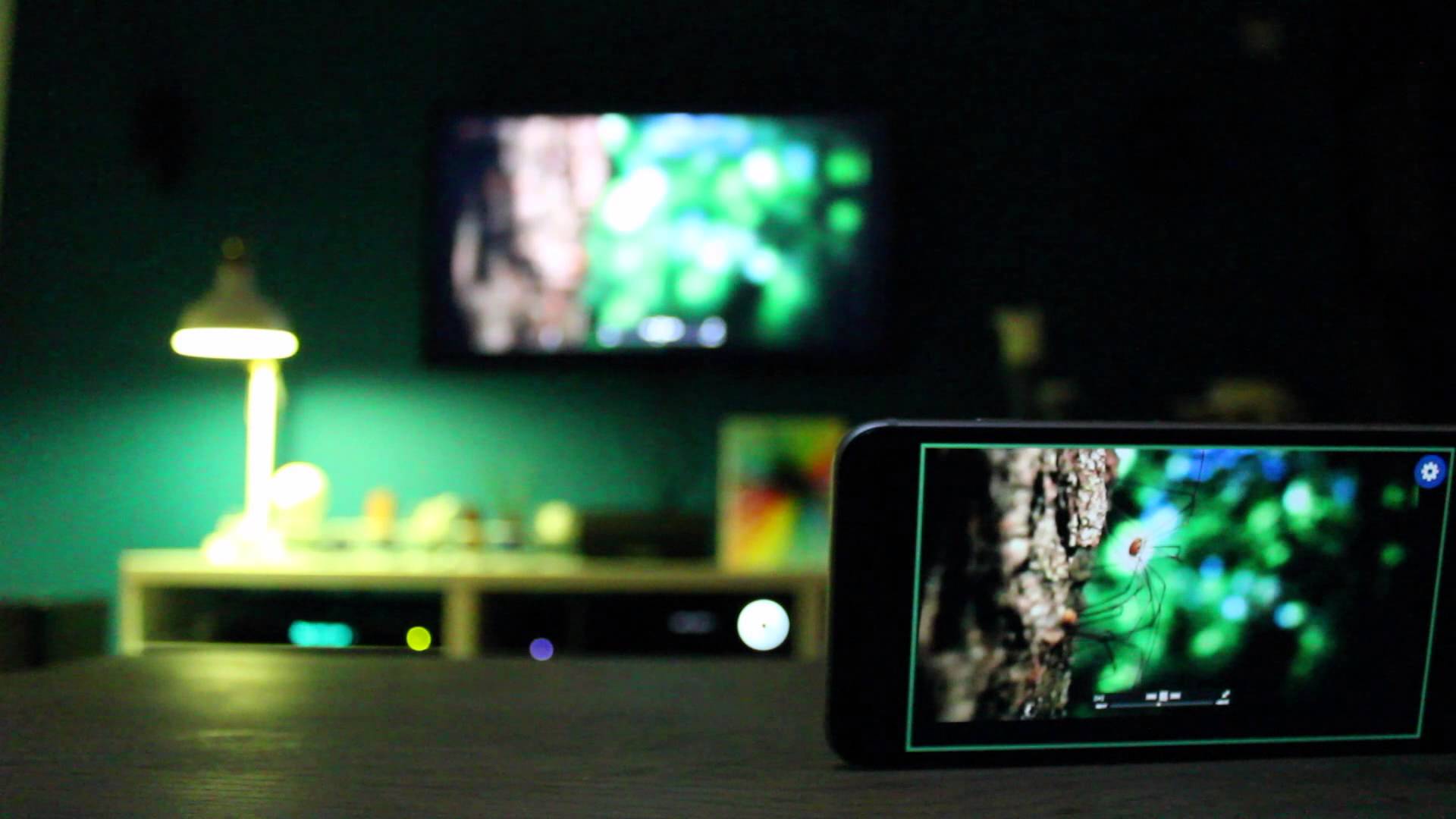 If you're having a party or are simply immersing yourself in your sound apps such as Ambify or Hue Disco use algorithms to work seamlessly with your music. You can also create colour themes for different genres. Without delay, working in time with your music your lights will change to the beat of your tunes!

With Ambify there's an app for your Mac enabling you to play music via iTunes, Spotify, Tidal or other streaming services through to your speakers.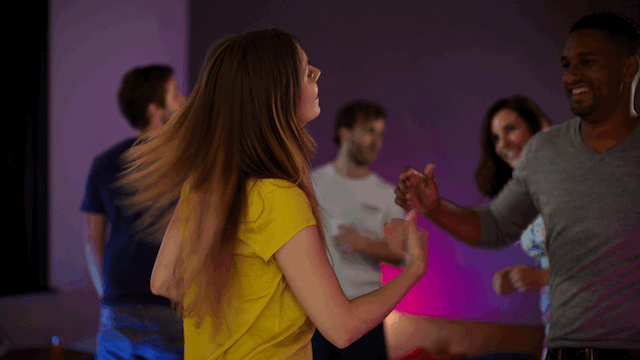 Alternatives

Of course the Philips Hue system is not the only one on the market. Popular alternatives include:
With price variations for starter kits and components it really is worth doing a little bit of your own research to find a system which best suits your needs. However, in our own research Philips Hue stands head and shoulders above the others and we can't wait to introduce it more into our own designs!
"Though myriad alternatives for the Philips Hue exist on the market today, the original product still reigns superior in the smart lighting world. They offer the best compatibility, brightness, and controls."
So there you have it, our guide to Philips Hue smart lighting a truly innovative, fun yet highly practical way to light your home! As interior designers we look at the way you live and believe that your home should be a reflection of your personality so why not include a smart lighting system which puts you in control and colour your life.