Baby It's Cold Outside
22 Nov
Winter is well on its way. Our days are getting shorter and cold, dark nights are drawing in. It sounds so dreary doesn't it? It's all a matter of perception though and if you think of this time in another way, you can take great pleasure in thinking of all the wonderful times you can have in your warm, cozy home - fire lit, curtains drawn, cushions, blankets, candles... ooooh, so snuggly and lovely!
There's an art to enjoying the moment and taking comfort from our surroundings. We're going to be spending more time indoors over these next few months so why not learn to embrace this and enjoy your home at this wonderful time of the year! The Danish call this feeling hygge, and over the past few years we Brits have very much adopted this term. It means different things to different people and it's a personal response to the things that have a special meaning to you. It has been adapted as a buzz word for creating a feeling of warmth and cosiness of snuggling down by the fire, blocking out the cold days and nights and finding your contentment in your surroundings. At Renaissance Interiors we think that this is a great aspiration to have, so how do you achieve it?
Layers of light
Not all of us are fortunate to have an open fire to give us the fireside glow, so instead use lamps to give layers and varying intensities of light. Avoid any lamp which concentrates light into a beam - we're not aiming for functional work light but multiple light sources which complement each other to create a warming effect.
Strategically placed around a room, table lamps and floor-standing lamps with a soft yellow 40-60 Watt equivalent bulb with shades which diffuse the light will create an atmosphere rich in a subtle glow. This light should be enough to function by- not too dim and not too bright. The Swedes have a great word for this: lagom - sufficient, enough, in balance, just right.
Candles that are grouped together also work well as layers of light. They go one stage further as they can also emulate the feel of a fire. Use hurricane lamps with church candles and votives with tea-lights to create different levels of light and feel yourself mesmerised by the flickering flames!
Neutrals and naturals
Keeping to a colour palette of neutral and natural tones will instantly create a feeling of calm. Adding a variety of textures such as cable knit, sheepskin, velvet and faux fur offers a soft and tactile sumptuous feeling. Think of adding these textures with footstools, cushions and beanbags, - just make sure that there are enough to go round as your family are sure to have their favourites!
There is plenty of choice at the moment which prices to suit all budgets. Here are just a few of our favourites: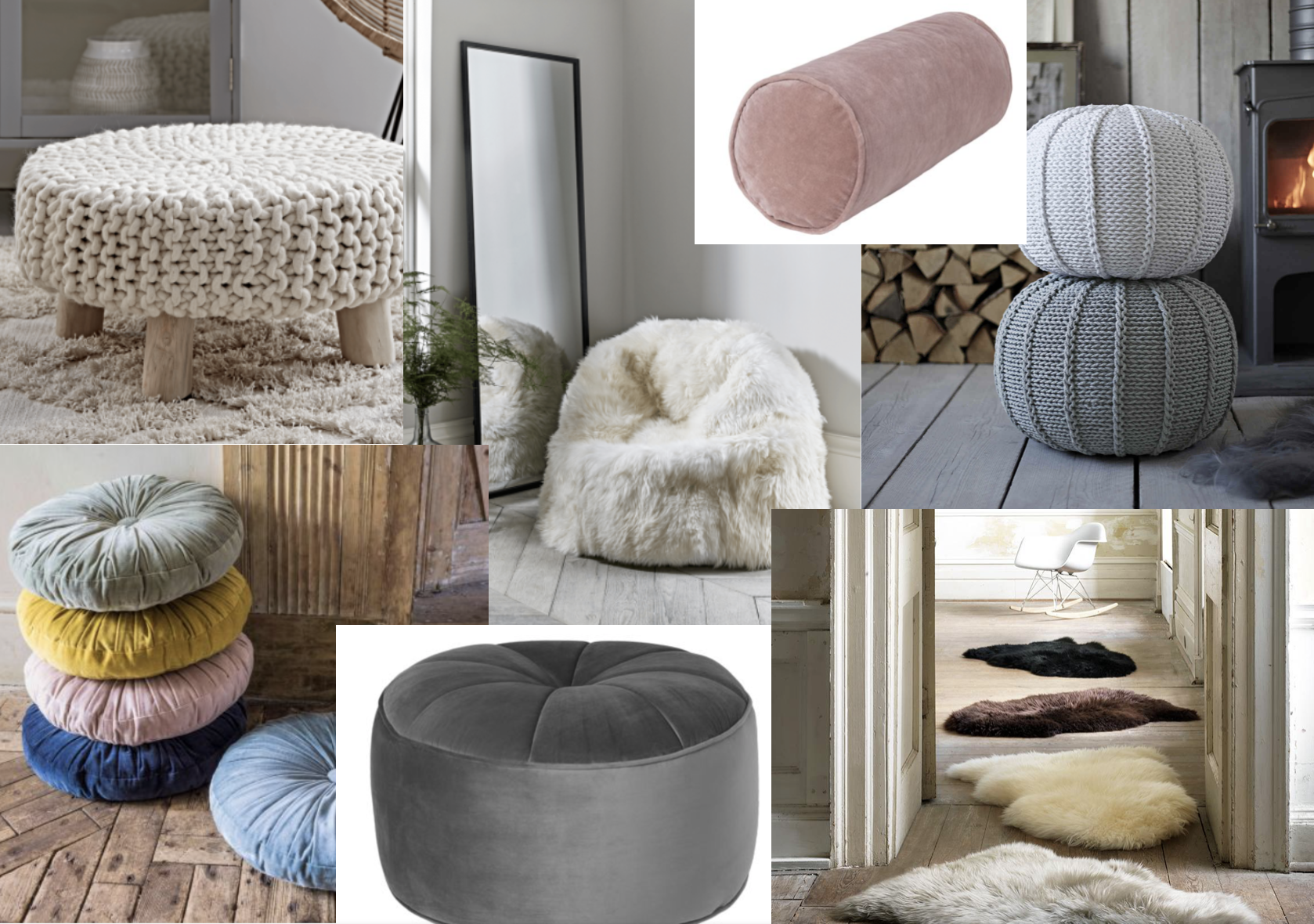 Rugs For Hugs
The current trend is to move away from carpet to hard wood floor finishes. If you are not blessed with having solid wood floorboards in your home you may wish to lay boards or laminate. There is a huge choice in patterns, colours and materials available for your flooring and it's always advisable to seek the help of a flooring company to guide you. However, your wonderful floor, although looking amazing with the natural wood tones will lack physical comfort and warmth and to truly embrace this cosy feel will need some softness underfoot. Whether you opt for one large rug or a collection of complimentary rugs seek advise before you invest! We source rugs and often make them for clients who can't find the exact size they need off-the-peg, so please ask if you need some help.
Fill Your Senses
Smell is our strongest of senses and a simple passing fragrance can invoke strong memories. Home fragrances are somewhat like perfumes and what works well in one home may not in another so fill your home with fragrances which mean something to you. Move with the seasons and change from lighter notes in spring and summer to heavier, fuller-bodied fragrances in autumn and winter.
As it creeps closer to Christmas fill your home with cinnamon, pine, orange and spices to add another level of warmth and comfort.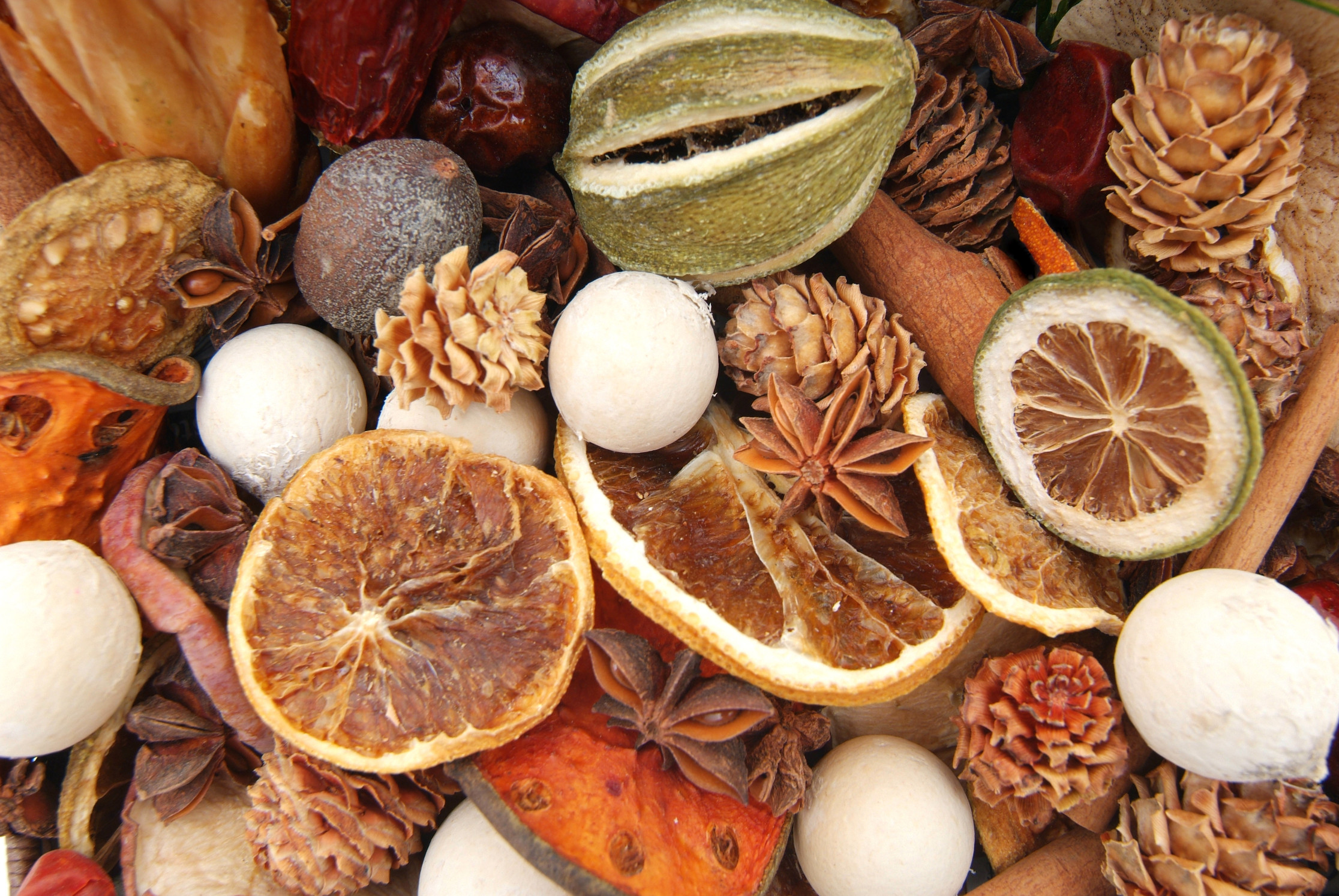 Snuggle Down
No self-respecting sofa at this time of the year should be seen without a throw elegantly draped over the arm! This is ready for when you are and there is nothing better than snuggling down, between the piles of cushions with a book or a film and taking the time to indulge yourself in the comfort of your home. Better still, make sure that this is big enough for two, or three, or four and get cosy with family and friends!
As with the footstools and cushions use a variety of fabrics in a heavier knit to keep warm and comfortable. These are a great addition to your home and easy to change with the seasons. For spring and summer keep a basket with lightweight throws which are great for using outside on chiller evenings and change these in autumn and winter for hand-crocheted blankets, chunky cable knits and faux furs. The difficulty is never getting comfortable but staying awake!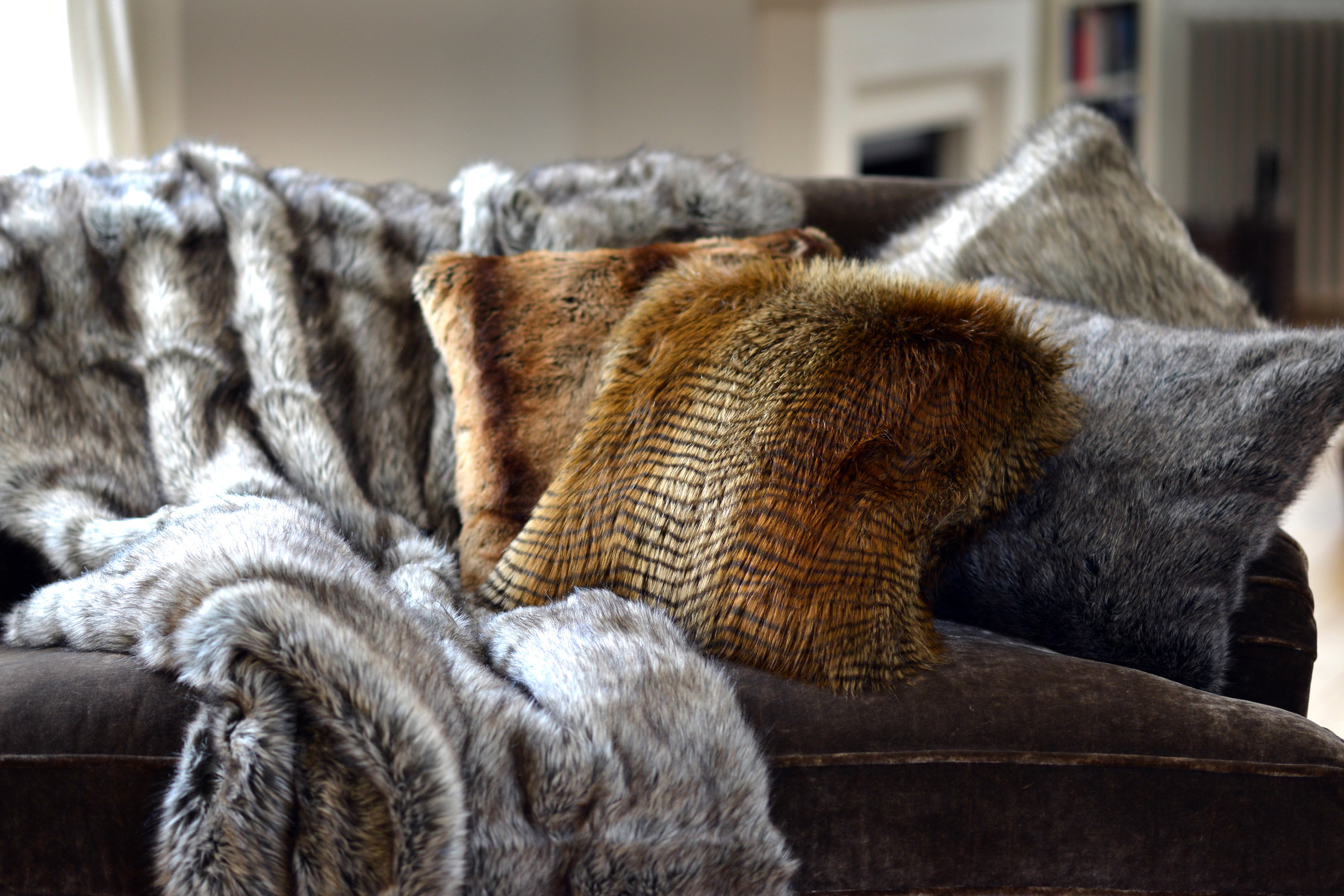 As always, we here to help you no matter the season. Remember, if you're thinking of a refurbishment this takes careful planning and designing to ensure that you are spending wisely, both in terms of money and time. No matter the size of your project we're with you all the way. Do not hesitate to contact us: 01252 220400