5 Principles of Interior Design: Emphasis
15 Mar
The Interior Design principle of 'emphasis' or 'accent' can turn a bland room into an exciting one!
Think of emphasis as an opportunity to accentuate a particular detail. Like in pictures a subject looks better if there is a mixture of light and shade, so too in your interiors. You can highlight elements with both light and colour.
In this guide, we explore ways to add drama and interest to your rooms and it doesn't have to be huge changes either.
Achieved in many ways through the placement of furniture, the use of colour, texture, lighting and contrast focus can also be achieved. Understanding when to fill a space or not is the key to creating a successful balance.
Design and Build Focal Points
Embarking on a new build, extension or remodelling offers the perfect opportunity to build in emphasis. Adding large picture windows, dividing walls, textured cladding, lighting, fireplaces, or using statement materials for flooring are just some elements that should be considered early in the design stage. It's never too early to think of these things but it can be too late if left to part way through the building process.
Harnessing Light
Lighting in design is something that can never be underestimated. It has the power to shape rooms, define spaces, and create an ambience. Most rooms are used for multiple functions, each requiring its own style of lighting. If you about to start a building project, now is the time to truly think about your lighting design and build in the solutions. It'll be cheaper to build in than go back and do it later.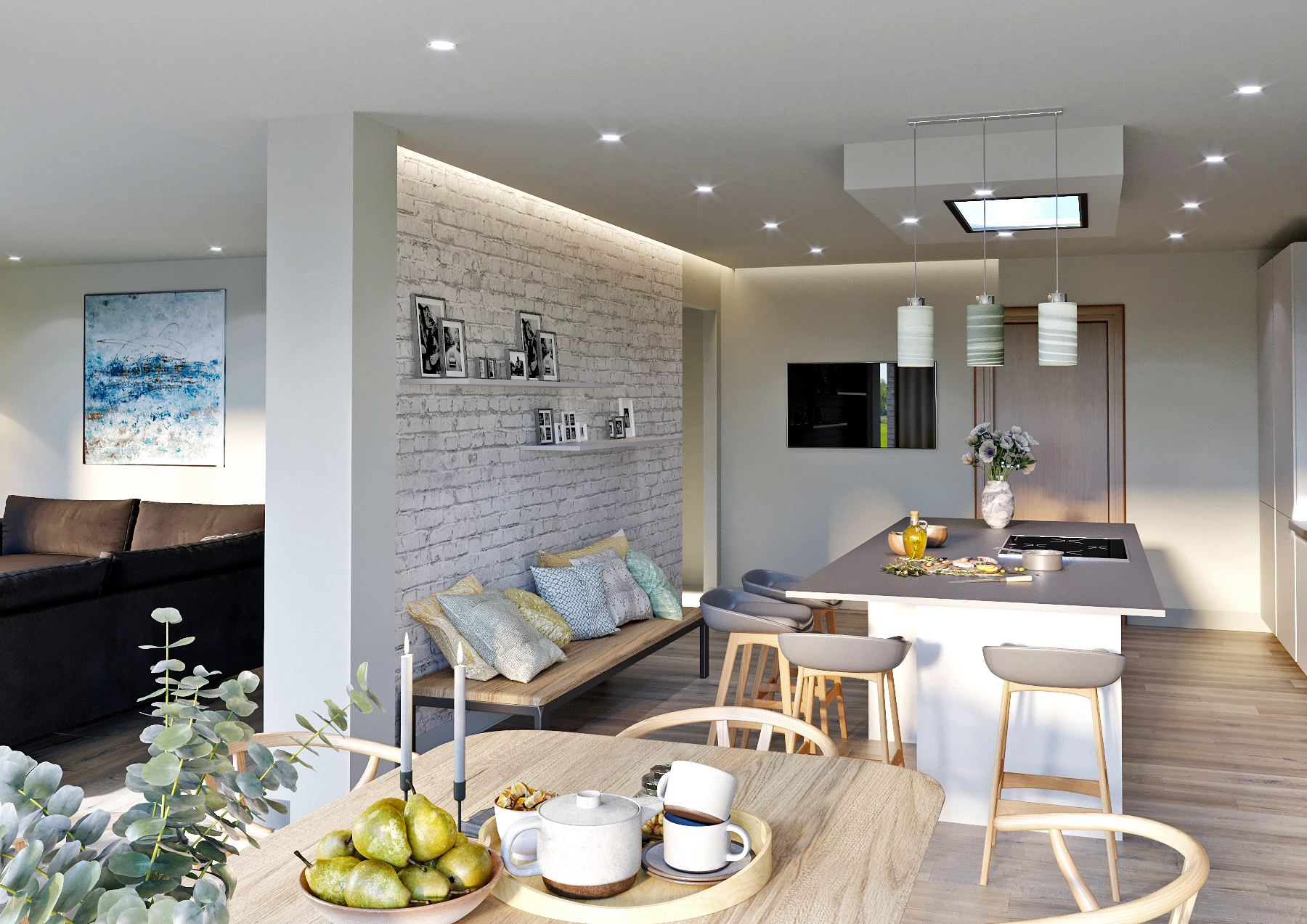 Coffered lighting along the long wall. This not only helps to elevate ceilings, giving additional height and contrast to walls, but on this occasion, we created this to draw the eye into the back corner of the room as there is no natural light there and the room is deep. This style of lighting is unobtrusive and gives you that indirect glow and helps to balance the darker corners of a room without being obvious.
Feature lights over the breakfast bar. This is for its light but also for its sculptural effect on the room. The room is deep with high level features and low-level features. By adding these individually crafted commissioned ceramic lights they not only give light over the bar but create more interest at mid-level and helps to break/zone the room.
There is plinth lighting, pelmet lighting and lighting above the units, all of which can be used individually or together to create a nice ambience, set the mood or for visibility, giving accents at high, mid and low levels.
Spotlights and a hob light give task lighting in the kitchen and dining room areas.
At the dining end of the room, we have coffered lighting on the opposite side of the room for balance, underwhich sits a sideboard with a feature lamp.
An indirect light source is the large feature mirror above the sideboard. This is purposely placed directly opposite a window to capture the light and bounce it back into the room. It also adds depth to a room.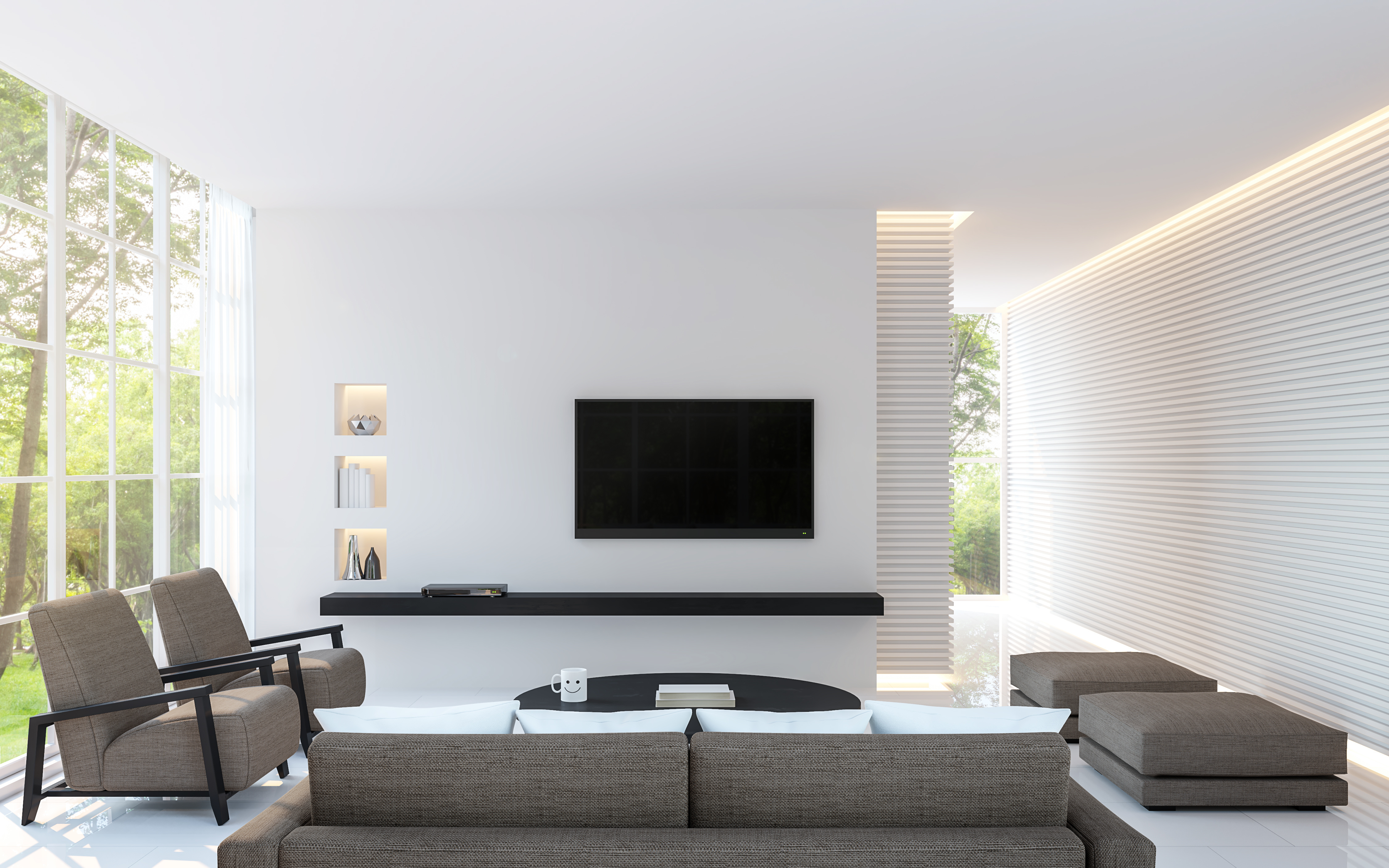 In a living room, a fireplace could stand out as the focus itself with a bold colour and/or a mirror above to create an instant impact to the room. We have also added lighting within the bookshelves and feature lights in the corner.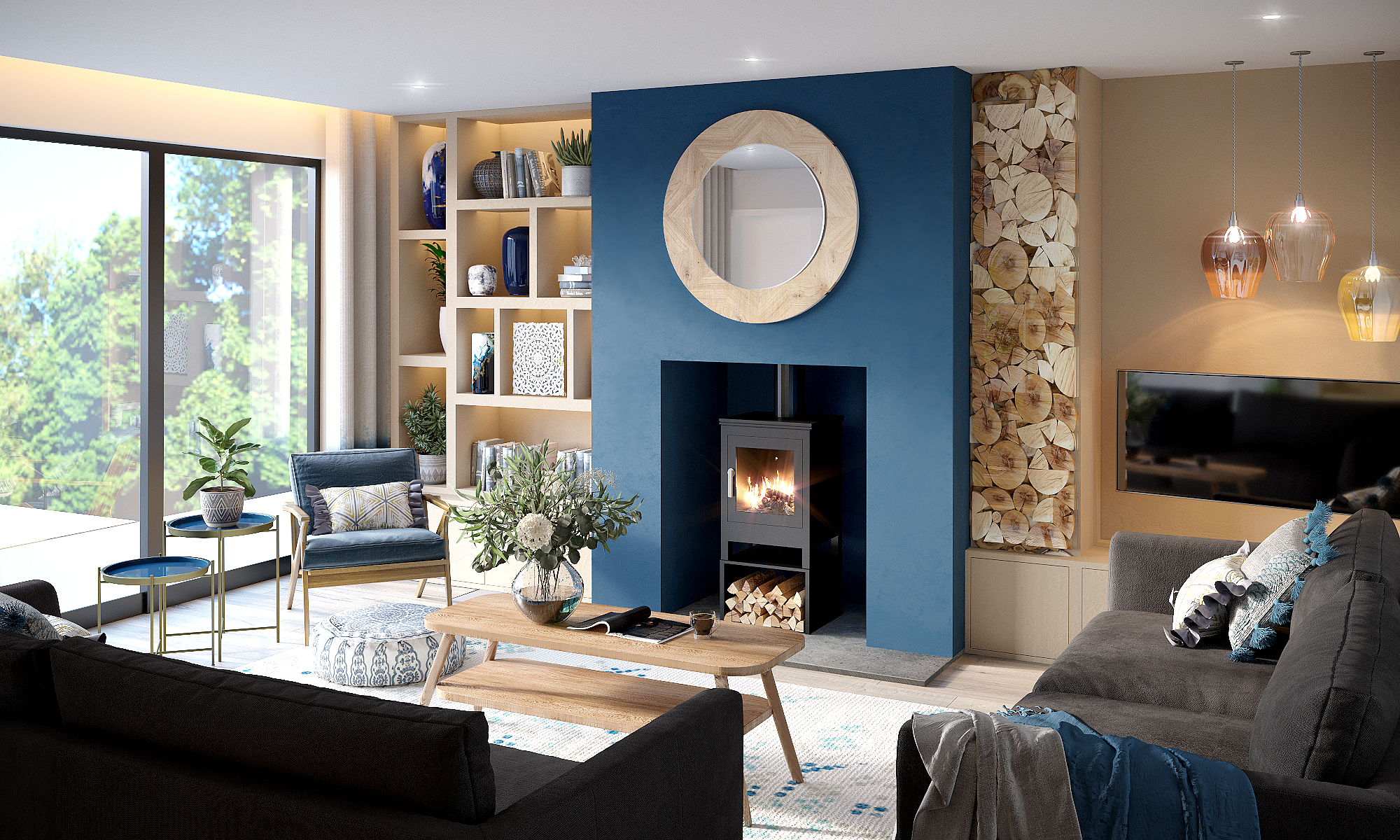 The logs to the left of the fire add height and texture to the room and balance the bookshelves on the other side, but it's not actually a log stack. We have created a resin door with log ends embedded to create the stack effect, but in fact it hides shelving inside.
As in the room above, texture is also important for emphasis.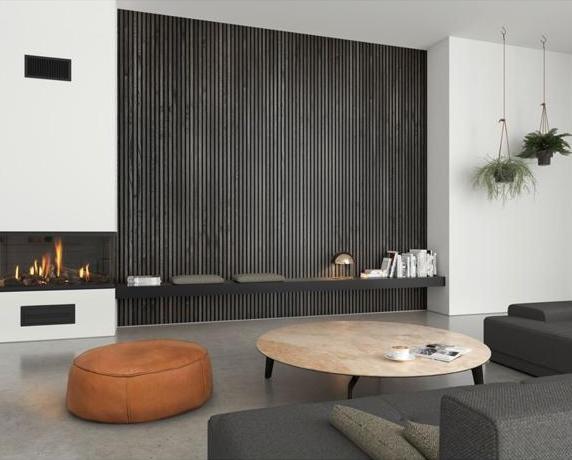 Remember walls don't have to be flat. Instead of a bold colour or feature wallpaper they could also have a texture such as panelling or battening (as above). If you do this, you have to be measured in your approach otherwise you are not adding emphasis, you will overwhelm it.
Hallways are often quite featureless, so by adding a console table, mirror and lighting you can make a statement even in a narrow space.
Also, stripes on the floor and up the stairs, always make a great feature for a hall. Or of stripes are a bit too much for you, then you can border a plain coloured carpet that accentuates another colour like this one used by our flooring partner Interior Decisions Carpets and Flooring, where the black border highlights the newly laid black and white tiles in the hall.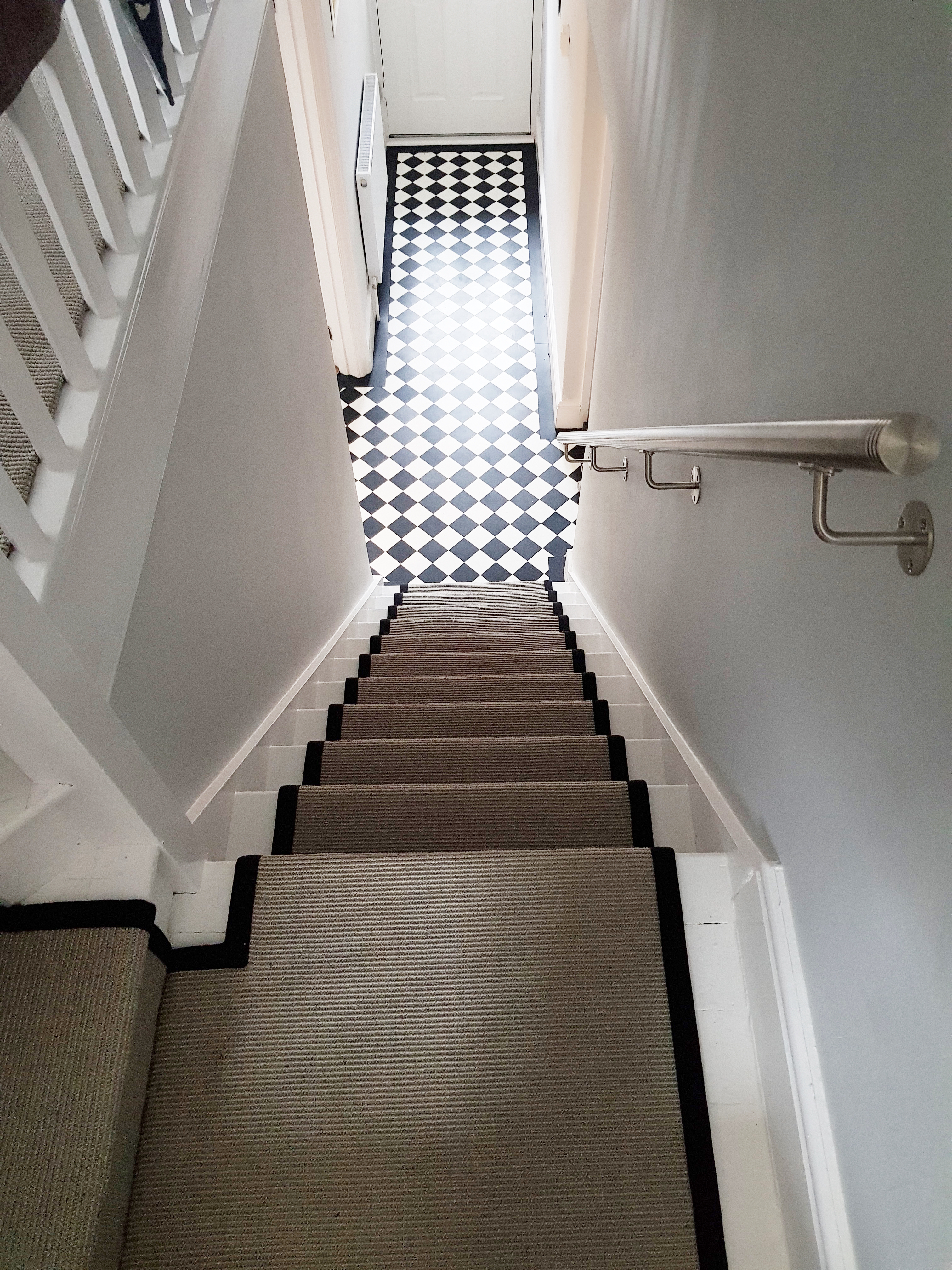 Colour is hugely important to accentuate and balance a room. This should be addressed when you are creating your palette for your room. Think
of wall colours, wallpaper, curtains, blind fabrics, cushions, floors and rugs in conjunction with your furniture to create your scheme. You can change
the balance of a room, just by adjusting which colours or textures you implement where, even within the same palette.
For many rooms the main function will dictate the focal furniture. The bed will be the dominant feature in a bedroom, so the way you dress this really important. The headboard, surrounding wall colour and texture, bedding, bedside tables and lamps combine to create drama and interest.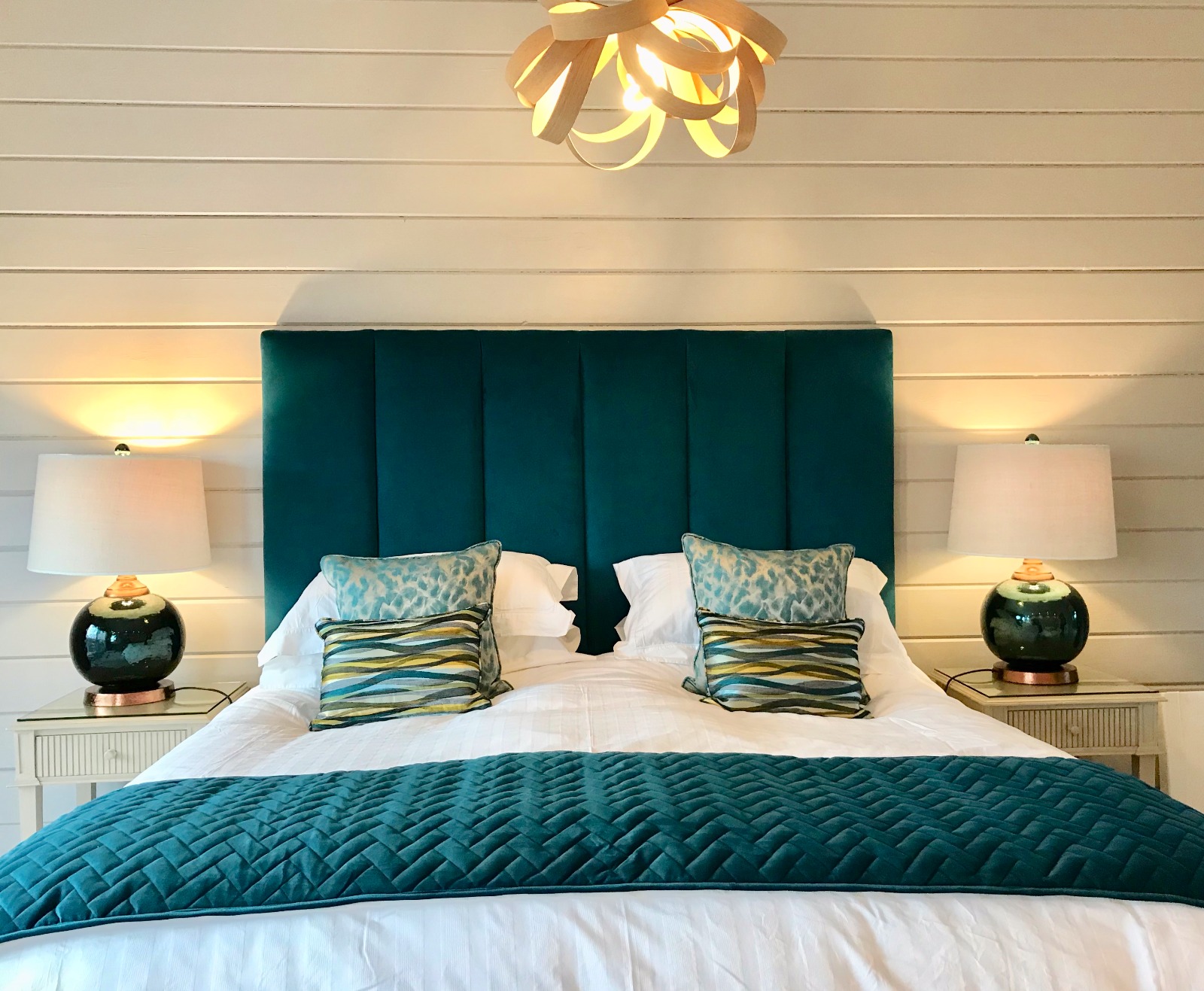 Add a feature wall on one wall with either paint or wallpaper
Choose a colour from within that and add some scatter cushions
Use a sideboard or table to place a feature lamp and place a mirror (don't be shy..go large, but balance it to the width of the table. If it's a wide item, the mirror should be about one third of its width. If it's narrow, keep with width to 50-75% but go taller.
Add a rug- with just a little bit of your accent colour either within the design or as a border.
Lamps. Introduce some lamps to avoid always using 'the big light'. Floor as well as table lamps as these can add a sculptural element to a room too.
Artwork- either a single large piece or a collection of smaller frames clustered together.
Find your Focus
If you think that your home has rooms which lack focus, try visualising each room as a blank white or light grey space and then add different elements to it, considering texture, colour and pattern. Through our Renaissance Express service, we can go through this exercise with you and give you bespoke suggestions and solutions for you to implement. Or with our Interior Design service we can take the lead and create beautiful rooms which show purpose and design with stunning focal points.
Next in the series: Scale & Proportion